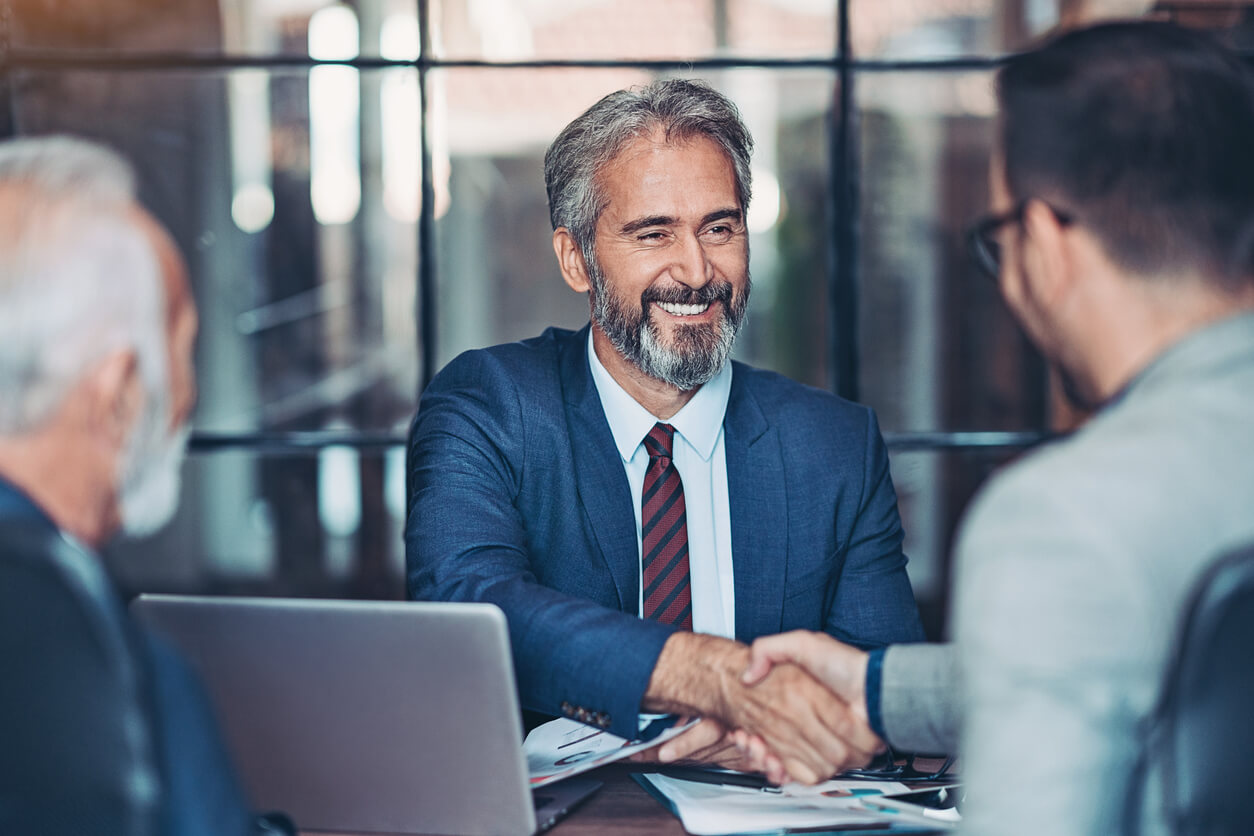 The United States alone is home to over 750,000 franchise establishments, a number that continues to grow every day. One in twelve businesses and 50% of all retail sales come from franchises.  
Franchising, at a basic level, is an entry point for individuals who want to own their own business without starting from scratch. A franchisee, who is the party buying into a franchise, pays fees to the franchisor, the owner of the brand and the franchise system as a whole. In exchange, they receive trademarked branding, products, and services as well as assistance in starting up and operating the business. 
A franchised brand has more than likely already experienced growth and success. It's a win-win situation for the franchisee!
Risks and Rewards of Business Ownership
As with any investment, there are advantages and disadvantages to business ownership. Before we dig deeper into franchising specifically, let's take a look at the risks and rewards that come along with business ownership in general.
Opening your own business is an investment in yourself. With the proper approach, it can help you achieve financial independence, obtain more control over your personal and professional future, and even comes with tax advantages and other perks!
On the other hand, starting a business is an active investment with a large upfront capital requirement. You may experience high competition within your market and industry that could prove to be overwhelming without strong business skills and a well-researched and well-implemented business plan. 
When deciding what form of business ownership is right for you, you'll want to do your due diligence, assess your strengths and weaknesses, and identify your goals. There is no one-size-fits-all approach. If you want more creative freedom and are willing to take risks, perhaps franchising isn't your cup of tea. But if you would rather stick to something that is a bit more tried-and-true with systems in place for you to follow, franchising offers these benefits and more. 
The Advantages of Franchising
At Franchise123, we believe franchising offers new business owners the best possible chance of success and prosperity. This belief is what fuels everything we do. Our mission is to help people find the franchise opportunity that will help them thrive and achieve their goals.
See for yourself why becoming a franchise partner could be the opportunity you are looking for.
Brand Recognition and Customer Loyalty
Consumers like familiarity and reliability. Because of the consistency in the products, service, and quality from franchise location to franchise location, customers know they can trust a franchise brand if they have had a positive experience with them before, even at a different location. 
When opening a franchise business, you will inherit a loyal customer base before you even begin marketing your business. While the same trust and loyalty are very possible with a start-up business, it will take significantly longer to build this up from scratch. Your consumers not only need to become aware of you and what you have to offer, but they have to gain trust in your company from the ground up.
While some people may welcome the challenge of building a business out of nothing, an established brand with a good reputation will be the most sure-fire path to success.
Less Risk and Uncertainty
Franchising takes a lot of the guesswork out of starting a business. Without the proven systems and results of a franchise to guide you, there is a lot of trial and error when planning and budgeting for a new business. Unavoidable expenses often arise that throw your entire budget out the window, or you may find that an idea you had simply doesn't work even after spending lots of time and money trying to get it to take off. 
When a business founder makes the decision to franchise, they have to be able to show that their systems and processes work effectively. The Franchise Disclosure Document will list ranges for all fees and expenses, and timelines and construction plans are laid out for you so you know exactly what to expect.
Lenders will also look at the franchise system as a whole when making the decision to grant a loan. A proven track record with an experienced leadership team at the franchisor level will be easier to secure funding for than an idea that only exists in your brain with no proof of concept.
Be Your Own Boss and Take Control of Your Future
In the franchise industry, you'll often hear the phrase, "Be in business for yourself, but not by yourself." 
Buying a franchise effectively allows you to "buy" a new job as a business owner. Many individuals take pride in owning their own business and being able to break free from the corporate world. Being your own boss definitely has a certain appeal to it, especially when you don't have to start from scratch.
Franchising also offers many opportunities for scaling and growth that may be less accessible for start-ups, particularly in the early stages of the business.
Real Estate Guidance and Territory Protection
The location of your franchise is arguably one of the most important factors for your success as a franchisee. Whether you are building your franchise location from the ground up or looking to secure and renovate existing real estate, the franchisor and its partners will walk you through every step of the process. 
Franchising also comes with a certain level of territory protection. The franchisor, as a part of the Franchise Agreement, will agree not to award any locations within your given territory. 
With the backing of a good franchisor, you can open your business in less time, generate revenue earlier, and reach your break-even point more quickly.
Marketing and Advertising Support
One great benefit of joining a franchise is that you will not have to waste money and time figuring out what works and what doesn't - the franchisor has already done that for you. 
Some of the marketing perks of being a franchisee include:
National advertising campaigns that increase brand awareness and enhance the effectiveness of your local marketing efforts
Logos, branded merchandise, and marketing materials 
Brand recognition and an established, loyal customer base
Local marketing strategies and playbooks
Built-in trust and comfort with your customers
Technology and Operational Support
Another key decision when starting a new business is selecting the proper technology and operations system to help your business run as smoothly and efficiently as possible. This selection process requires significant research, capital, and trial and error. As a part of a franchise system, your franchisor will provide access to their carefully chosen, and in some cases custom made, technology systems.
This is arguably one of the most important aspects of your business from a customer perspective. Having user-friendly technology and an efficient operational system is critical in providing a seamless experience for your customers. 
Some franchisors even take this a step further and help connect you with POS and bookkeeping services and often provide assistance with troubleshooting and account management. 
Recruitment, Hiring, and Training
Many franchisors offer recruitment guidelines, interview templates, training programs, operations manuals, and more things that can simplify the time-consuming and frustrating process of identifying talent for your business.
In addition to training for your employees, you as the franchisee will receive training, resources, and guidance to help put your business on the path to success. 
A Supportive Community of Franchisees
Being a franchise partner connects you to a larger community of business owners across the country. You will be able to confer and rely on one another to further the success of the brand and each franchisee.
With the encouragement of a full support system, you will never be alone in this endeavor. There will always be someone to guide you through any roadblocks you might run into and provide guidance at every stage of your journey.
No Industry or Business Experience Is Necessary!
Part of building a world-class franchise system is partnering with the right people. The good news is that you don't need any experience as a business owner to be a successful franchisee. Franchisors look for strong, motivated individuals that are willing to learn and put in the effort.
Regardless of what industry you are entering, the franchisor will provide you with all of the training you need. People with passion, discipline, and grit make the best franchisees!
Getting Started Is Easy! Here's How.
If you've always wanted to open your own business but felt you didn't have the experience or expertise to do so, franchising might be the answer you've been looking for! 
If you're ready to explore the world of franchising, browse franchise concepts for sale near you on our complete franchise consortium! Create a free account on Franchise123.com to begin tracking and comparing your favorite franchises, take our three-minute questionnaire for personalized recommendations, and explore our library of franchising resources. 
Whether you want to be involved in the day-to-day operations or own a business that is more or less self-sufficient, we can match you up with a franchise that fits into your vision. There is such a wide range of franchising options spanning all industries. There is truly something out there for everyone!
If you're still not sure where to begin, we have a dedicated customer service team to answer your questions and put you on the right track. We believe that a path to business ownership should be readily available for everyone, and we are here to help you reach your goals!
---