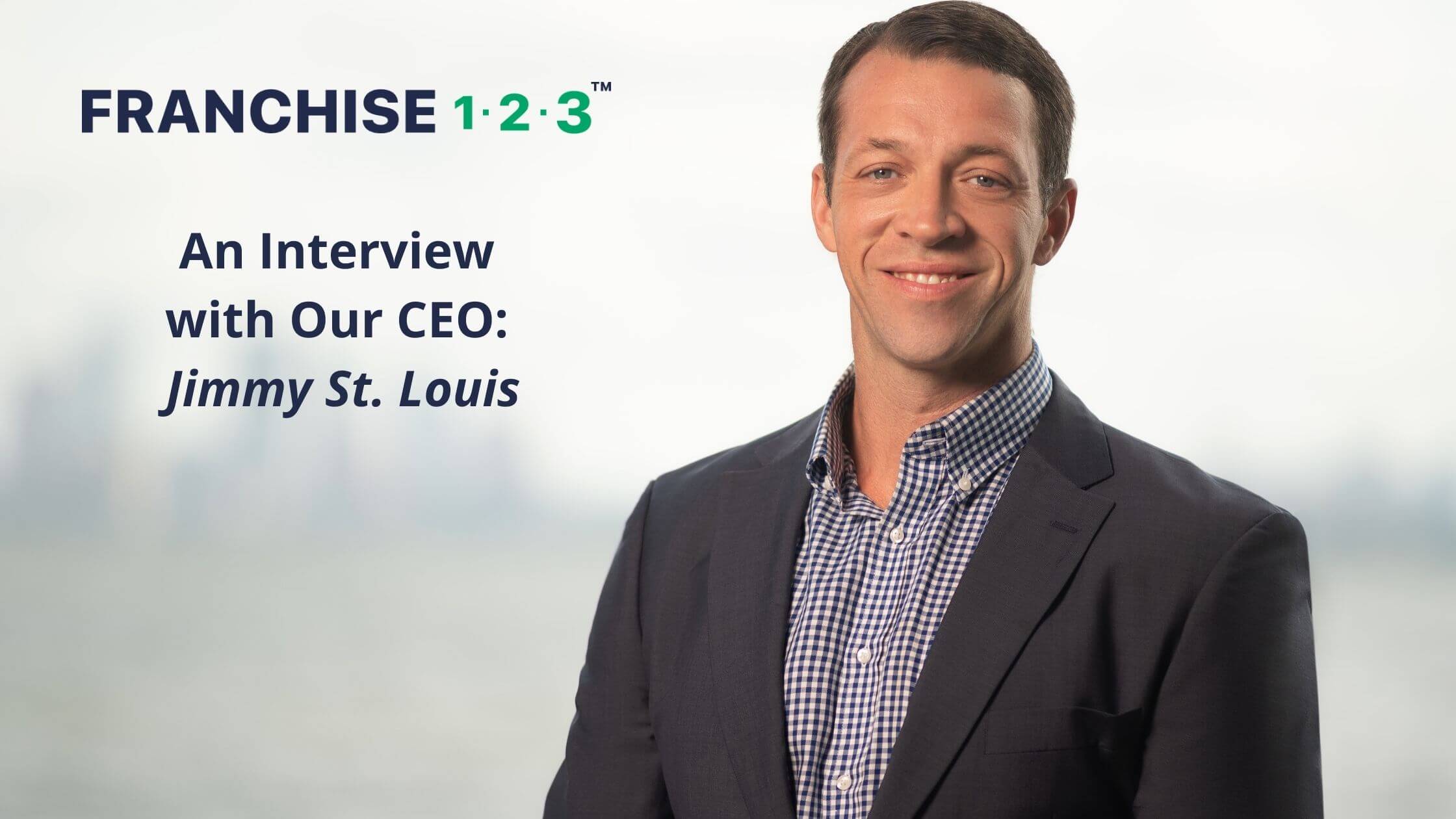 Recently we were able to take some time and sit down with our CEO, Jimmy St Louis. We talked about Franchise123 and franchising as a whole. Check out the interview below!
Interviewer: So, tell me a little bit about Franchise123.com.
Jimmy St Louis: We are Zillow, but for franchising. The genesis of our company is based on the problem that, "there is no single source of truth in franchising." People need a single place to go to do research about any and all franchise brands, to engage with them, and to decide on the best investment opportunity. That did not exist before Franchise123. Our goal is to provide all franchisors and franchisees with the best opportunity for success.
I: What makes you, and Franchise123, stand out from the competition?
JSL: Franchise123 provides all of the tools necessary to identify, research, and decide on the best brand to invest in. Portals only provide company information, but not the tools to truly engage and decide. Our platform is considered a multi-sided platform, which means that we offer a full suite of services for buyers and sellers.
For example, while a buyer is researching, any brand that the buyer has engaged with can engage directly with them and manage their buying experience online.
Franchisors are able to create an account in three minutes, and then leverage our full suite of services. This full suite includes website template builders, a CRM solution, as well as analytical data to see how they stack up against their competition.
Simply put, the goal of Franchise123 is to give both buyers and sellers the tools necessary to effectively buy and sell franchises. At this point, nobody is doing that.
I: So what are some of the trends in franchising these days?
JSL: There are a multitude of trends that should lead to optimism regarding franchising.
We are seeing larger investment groups roll up franchisors and continue to help them to grow.
We are seeing mergers of technology and operational tools in franchising with larger franchise holding companies.
We are also seeing a strong call to action to change the sales process of franchises. This can be seen in an industry trend, where people are working harder to align the interests of sales companies and emerging franchisors.
We are also seeing that the current sales model with the brokerage system is being looked at hard. They are looking at the commission structure, the consumer's ability to negotiate the franchise fee, as well as how they are compensated overall for their services.
Generating leads in franchising is also seeing change, which hasn't been seen before.
I: What are the best, or most popular, industries for franchising right now.
JSL: On our site, the most traffic we are seeing is in several different sectors. These popular sectors include home services, mobile-based businesses, and at-home fitness apps being offered by boutique fitness franchisors.
I: What are the biggest challenges in the industry?
JSL: The biggest challenge in the industry is protecting the franchisees. Our objective is to help franchisees make the most informed decision about what franchise they will invest in. Every year, franchisors fail, leaving the franchisee with no support to run the business that they've invested in. We see it every day. Some of the most notable have been Quizno's, as well as the 24 Hour Fitness reorganization.
I: What are some of the biggest misconceptions about franchising?
JSL: The biggest misconception about franchising has to do with business startups. Many people believe that franchises don't need to be treated as startups and that if the brand they've invested in is successful, that they'll be successful as well.
Another big misconception is the amount of support provided by the franchisor. It's expected to be tremendous, but that's not the case. It's important that each franchisee approaches their unit as if it's run solely by them.
I: What's the key to a successful franchise, for both sides?
JSL: By both sides, just as described in discussing our multi-sided business platform, you mean the franchisee, and the franchisor, of course. In this case, the franchisee is the individual or group of partners that owns and operates franchise units. The franchisor is the holding company, or the company that owns the rights to the brand. They offer assistance to franchisees.
What makes a franchisee successful is treating their unit like it's on its own. The support they get is a bonus.
But, the paramount factor that makes them both successful is properly profiling and matching franchisors with franchisees.
I: What are the pros and cons of a franchise compared to an independent business?
JSL: The strongest pro is freedom and a built-in business. However, we have a handy graph located in our book, Your Comprehensive Guide to Franchise Success, that explains both the pros and the cons.
I: What advice would you give to someone looking to open a franchise?
JSL: Research and proper selection are the best advice we can give. Do your research, making sure to be thorough and patient. Don't make a decision until you have fully vetted all of your top ten choices.
I: How has the pandemic affected your business, as well as the industry?
JSL: The pandemic has caused a shift toward people wanting to take their financial future into their own hands. We are seeing more traffic on franchise sales and more people are beginning to deploy savings capital into owning their own business.
However, we also saw the world shift toward digital communication and away from in-person meetings. This has, and will greatly, impact and benefit Franchise123. We are the first and only online platform to buy and sell franchises.
I: Where do you see your business a year from now? Five years from now?
JSL: In a year, we expect to see 25,000 users, and 500 different brands engaged.
In five? We're shooting for 1 million users and 4,000 brands engaged. We are the single digital marketplace that has full suites of services for any franchisor and their franchisees to be supported.
I: What's the future of franchising?
JSL: More significant market segmentation is the future of franchising. Franchises will follow digital market trends, but restaurants will still thrive. With more ability to scale in the digital market, we're sure to see more mobile-based businesses.
For more information regarding Franchise123, and the accompanying book that dissects the franchising marketplace, sign up for your free account today!