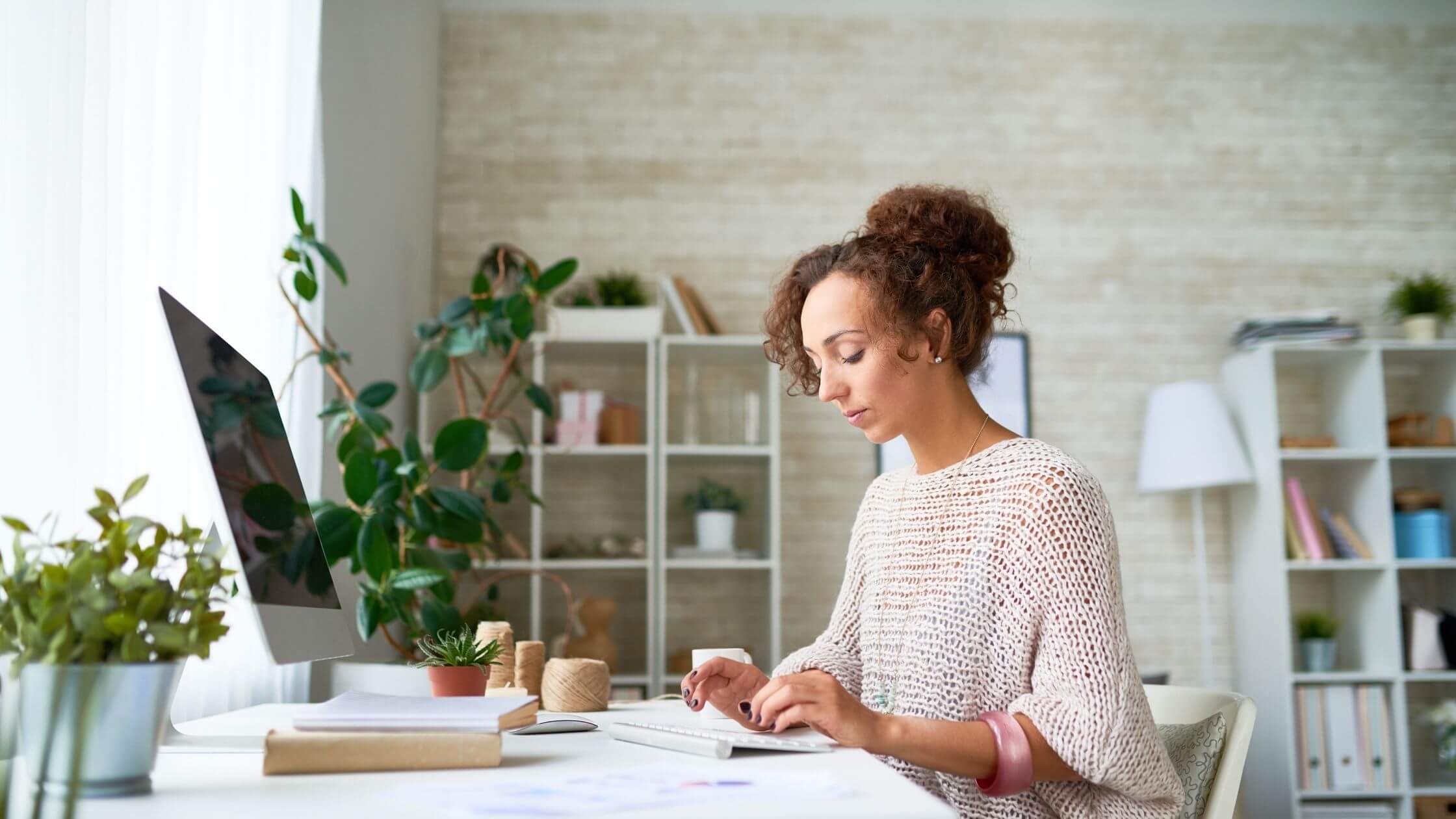 Dealing with a global pandemic for a year and a half has certainly changed the way we live and work. Working from home has become standard practice, and many individuals have found it gives them more control over their day, better focus, and a better work-life balance.
For those seeking to switch to or maintain their work-from-home lifestyle, it may be worthwhile to look into a home-based franchise business.
Any business that does not require an office, retail, or industrial space can be adapted to work from home. With technological advancements ensuring that the majority of the US population has steady access to the internet, anyone with an internet-connected device has the potential to become a franchisee!
Work From Home with a Wide Berth of Industries to Choose From!
When you imagine a remote career, you might automatically picture someone sitting at a desk and working at a computer alone all day. All home-based jobs are like this, right?
Wrong! Home-based franchises span multiple industries and come with a wide variety of business models.
You certainly could go the more traditional route with a business service or consulting franchise and work at home from your computer.
But you could also start a home renovation business, where you travel to the client's home to perform repairs.
In fact, home services are a big opportunity in the at-home franchise sector. Since these jobs are performed onsite, no office is needed! Depending on the specific business model, you may simply need a truck or small storage unit to store necessary equipment and supplies.
Residential and commercial cleaning services can also be run from a home office for this same reason.
Other common home-based businesses include mobile and in-home senior care, mobile pet grooming businesses, web development services, pest control services, handyman services, garage door repair services, flooring installation, interior design, and so much more.
Are Home-Based Businesses a Trend? Or a Real Possibility?
Do a quick Google search and you'll find that lots of traditional managers and executives regularly decry the shift to remote or at-home work. They might claim that home-based businesses are just a trend or fad and will fade away sooner rather than later. But is this really correct?
In our opinion, no.
In fact, it's more likely that work from home trends are sweeping the country and are here to stay. There are a couple of big reasons for this:
Lots of organizations have figured out that they can save tons of cash by having employees work from home and avoiding paying rent and other overhead expenses.

Furthermore, many companies and employees see the value of not forcing congregation or collaboration where it isn't helpful. This is doubly true due to the pandemic and similar concerns about public health.

In some franchises, having your employees based in their own homes allows them to reach out to a broader range of contacts or potential customers geographically speaking.
On top of all that, there's no denying that the pandemic has shifted how we view working from home as a broader society. No longer is it necessarily true that professionals look down on folks who work partially or primarily from home.
In fact, it's the opposite. Lots of people wish that they could work remotely or from home, leading to envy rather than dismissal. Because of all these factors, home-based franchises are only going to grow in the future.
If you're at all interested in working from home or working remotely, now's the best chance to jump into this industry and hit the ground running.
Why a Home-Based Franchise?
If you're not already convinced, let's take a look at the top benefits of buying a home-based business for sale:
1. Healthier Work-Life Balance
There are lots of home companies that allow you to achieve a better work-life balance and spend more quality time with your loved ones, so joining a franchise doesn't mean you have to forsake your personal life. Because you won't have to answer to anyone, you'll have complete freedom over how you spend your time. You may choose when and how often you work if you are self-motivated, disciplined, and good at time management.
Bonus—no more commute! Think of all the time and gas money you'll be saving. Plus, no more frustration of being caught in rush hour traffic.
2. Low Investment
Working from home allows you to avoid the expenditures of renting an office space. Business premises can be very costly, especially if they are in top locations.
Some businesses may inevitably rely on in-person offices or brick-and-mortar storefronts to succeed, but home-based franchise businesses can be run from anywhere. This drastically lowers your ongoing investment costs, allowing you to save not only on rent but also on utilities and maintenance. As a result, you'll be able to get a far faster return on your investment than you would if you couldn't work from home.
3. Increased Productivity
Working in accordance with your body clock should help you be more productive. Without the distractions of colleagues and meetings, you'll almost certainly get more work done. You'll be able to focus on your work without feeling like you're neglecting coworkers or being antisocial once you're away from office politics and small talk.
4. Less Stress
You'll have less to juggle if you stay at home. You can be there for your family when they need you, and you won't be late due to traffic jams or falling leaves on the train tracks.
In addition, being in the relaxing environment of your own home may make you feel more at ease. Overall, reducing stress should aid in the development of a successful and profitable franchise.
Finally, as a home-based business, you may feel more protected and less worried in the event of future global health crises.
How to Choose a Home-Based Franchise Business
While a home-based franchise business could be the best idea for your career, keep in mind you also need to choose the franchise in question just as carefully as you would a "regular" franchise.
Let's take a look at some of the main factors you should consider before signing on with a franchisor.
Business Model
As a franchisee, one of your top concerns is whether a franchisor's business model is successful or not. After all, you don't want to sign on with a franchise that seems like it's headed for an early bankruptcy!
Do a lot of research into the franchise in question and ask yourself:
Has the franchise had a lot of financial success over the last couple of years?

How does the franchise make its money? Is it from a per-client basis, from subscriptions, or something else entirely?

How will you feel operating the business model? In other words, will the franchise be a good fit for your work style and personality? You won't want to sign on with a franchise that requires you to go door-to-door selling stuff if you aren't a people person, for example.
The majority of home-based franchises rely on a few different business models, including:
Computer-based businesses, where you interact very rarely with your clients or customers in person. However, these franchises may require you to do a lot of emailing or video chatting with those clients and customers

Door-to-door franchises, where you leave your home and go door-to-door selling things, repairing things, or offering other services to potential clients. Note that these franchises are not for folks who don't mind getting rejected frequently.

Contractor franchises. These often include home services franchises that involve traveling to a customer's home to perform a job.
There are other types of franchises for at-home workers, of course. The bottom line is this: make sure that a franchise's business model is compatible with you as a person and professional before you consider applying.
Earnings Potential and Future Growth
Next, do some more research and investigate the earnings potential and future growth of the franchise. Home-based franchises are convenient in terms of time management and mental health, but not all of them are super profitable.
If you want to make your at-home franchise business your primary means of income, make sure you can earn enough profit to pay your bills.
Fortunately, franchises report their profits and average earnings all the time. It should be fairly easy for you to determine the earning potential and future growth of the franchise by using resources like franchise123.com.
As you do your research, remember that the revenue or earning potential for the business doesn't necessarily reflect your salary. Factors such as location, seasonality, and your own business acumen can all affect your earning potential.
Required Skills
Consider the skills that a franchise will require you to have before signing on the dotted line. Some franchises are relatively easy to get into, even if you don't have a degree or technical skills.
Others might require you to have some experience. At the very least, you'll have to hire professionals that can complete the services and operations on your behalf.
In most cases, franchises that require more skills or specializations lead to better earnings than franchises that don't.
Franchisor Input and Control
You'll next want to consider how much franchisor input and control a given franchise includes.
The amount of franchisor input and control you have to deal with could impact whether a franchise is a good pick for your personality. This is doubly true if you left the traditional workforce because you didn't like being managed by a supervisor across the office.
Is More or Less Franchisor Control Ideal?
That depends on your personal preferences and what kind of work you're doing.
For many people, less franchisor control is ideal since it means they get ultimate freedom in working from or around their homes and don't have to feel like they are back in an office.
But for others, it can be very difficult to run an at-home franchise by themselves, especially if they don't have much prior experience.
Ask yourself what kind of management style you prefer, then do more research and figure out how much control or freedom a franchisor offers its franchisees.
Home-Based Franchise Examples
Still not convinced that home-based franchises are excellent opportunities? Let's break down some specific examples of franchises you might sign on with in the near future.
Carpeting and Flooring Companies
Carpeting and flooring companies are on the rise, and it's easy to see how they fit the home-based franchise model quite well.
Franchisees can hit a variety of clients in a single day without having to go to a main office.
These franchises are usually quite accessible for entrepreneurs or would-be small business owners. Abbey Carpet & Floor is a great example, with a minimum investment of $22,900.
Home Care Businesses
The home care or assisted living industry is growing rapidly since people are living longer than ever before.
Comfort Keepers is a great example of the potential of this franchise, as it has a reasonable entry investment minimum of $91,161 and well over 600 locations countrywide.
Travel Agencies
Travel agencies are another excellent example of franchises that never needed core offices in the first place.
As a travel agency franchisee, you'll connect travelers with vacations and travel packages all from the comfort of your own home.
Lots of travel agencies also provide in-depth training for franchisees to make sure they can provide worthwhile experiences for their customers.
Mobile Pet Franchises
Naturally, these franchise opportunities are a perfect fit if you love pets and don't mind spending your work day hanging out with them.
You can check out even more examples of home-based franchises on our home-based franchise directory.
Get Started Today!
When you combine these perks of working from home with the rewards of owning and operating a franchise, you have a very exciting prospect. If all of these make perfect sense to you, contact us today for the best home-based business for sale.