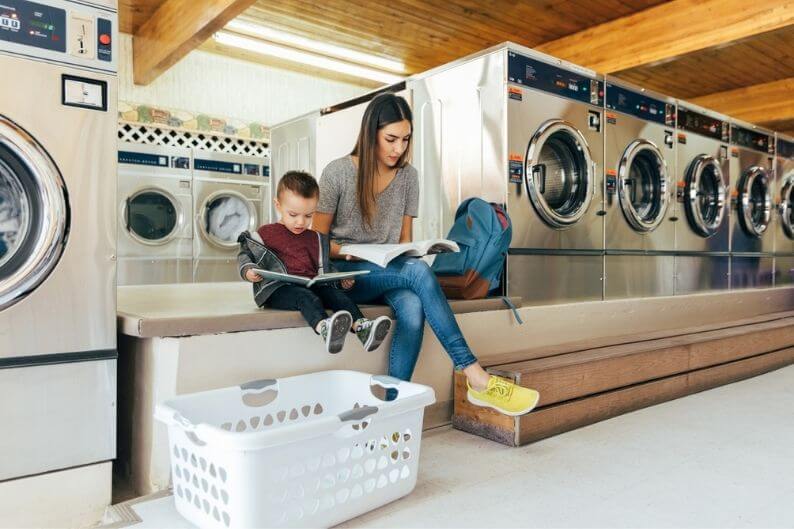 Are you interested in buying a laundromat franchise?
If so, you've come to the right place!
A laundry franchise is a potentially lucrative one if you know what you're doing. There's a combined $5 billion annual nationwide gross annual revenue in this business, and it has a 95% success rate.
A laundromat can make up to $300,000 a year, and 90% of people are repeat customers.
In this article, you'll learn what the industry's emerging trends are, ideas on how to make your business profitable, and the best laundromat franchise opportunities.
Let's get started!
Coin Laundry Industry Outlook
The coin-operated laundry industry has undergone revolutionary changes in the last couple of years.
These days, laundry facilities are getting bigger. Some are even larger than 3,000 square feet. Because coin laundries are bigger than they've ever been, owners are looking to increase their profits while maximizing their spaces' potential.
Laundromat owners have discovered they can do this by providing more than just space for customers to wash and dry their own clothes. They're paying for the footage anyway—why not maximize its potential?
This means the range of services offered by laundromats has dramatically expanded.
Most people have precious little time to cram everything they want to do in a day. A working mother or father with massive laundry piles can simply head over to the laundromat and use the big machines to quickly clean it all.
Some laundromats offer a solution with wash-and-fold services, which is the number one service after self-service washing and drying. Other laundromat owners go even further by picking up laundry from customers' homes and bringing it back to them washed, dried, and neatly folded.
Services Besides Laundry
Nowadays, you're as likely to see a laundromat renting mailboxes and serving food as you are to see it offer laundry services.
These more up-to-date facilities have video games, minimarts, and snack bars. Some of them have even gone coinless, giving swipe cards to patrons to use like debit cards.
Most customers love how their friendly neighborhood laundromat has transformed into a multiservice center. That's because they can get a variety of things done under one roof.
A More Upscale Customer Base
Savvy laundromat entrepreneurs tap into higher-income markets by offering services that cater to a more affluent clientele.
Customers are sick and tired of run-down laundromats. New facility owners who actively seek to cultivate a pleasant atmosphere draw in a vastly expanded customer base.
These state-of-the-art laundromats have kid centers, concerts, and a more aesthetically pleasing décor attractive to an upscale crowd.
A Mature Market
These are all exciting developments. However, keep in mind that business in the coin-operated laundry industry isn't as robust as it once was. Experts say it's a "mature market" where there isn't a whole lot of growth.
Except for areas where there's a boom in population, every neighborhood that needs a laundromat already has one. This doesn't mean there's no room for new owners. You could always buy an existing laundromat and revamp it to meet a specific market niche by creating a bigger store and adding services. However, don't just purchase a facility because it's for sale or you have a gimmick you want to show off.
Make sure you have enough customers for your business to be profitable. Keep in mind that your core demographic will always be people who just want to clean their clothes as quickly and as cheaply as possible.
These customers aren't going to be swayed by extra services and fancy gimmicks.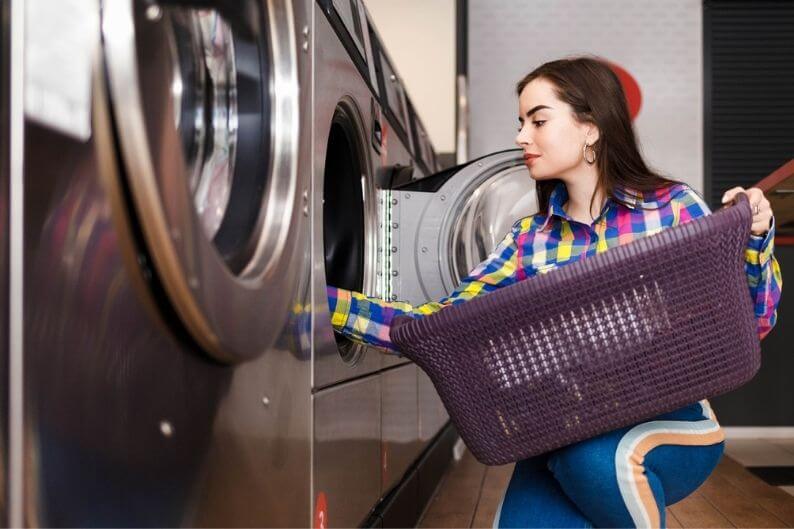 Your Primary Market
As the population of the country steadily increases, the number of renters will too.
This is a laundromat owner's primary market. During periods of recession, homeownership decreases. People move to apartments with nonexistent laundry facilities, so they're forced to use self-service laundries.
Many homeowners can no longer afford to repair their own washers and dryers. They also can't afford to buy new ones, so laundromats are their only option.
The Top 5 Laundromat Franchise Opportunities
Buying a laundromat franchise is one of the best ways to tap into this market. Franchises offer all the benefits of independent business ownership, with the advantages of an established network helping you every step of the way. Here are five of the best laundry franchise opportunities out there.
Speed Queen
Franchise Fee: $30,000
Initial Investment: $490,000 - $1,275,000
John Seelig and Joe Barlow founded Speed Queen in 1908. Over the last one hundred years, the company has honed its business expertise. It's now offering people the opportunity to buy a franchise.
This includes keeping everything up to date by installing the latest commercial washer models.
Speed Queen is fully committed to providing an exceptional customer experience by offering ultra-chic store designs in all their facilities. There are even kid-friendly lounge areas that include complimentary iPads to keep children entertained with a cornucopia of educational content.
The Speed Queen team can help you create a financial plan that meets your specific needs and your short- and long-term business goals.
Maytag Commercial Laundry
Frederick Maytag founded the company in 1893. Ever since then, it's been a nationally recognized brand that's trusted everywhere. This kind of brand recognition creates instant credibility and will drive customers to your store in droves.
The Maytag team strives to make acquiring and running a franchise as seamless a process as possible. They'll even help you with the interior design of your operation.
The company partners with Eastern Funding to help you get the funds you need to get your business started. They don't charge a franchise fee and are accepting franchise inquiries in every state.
WaveMAX Laundry
Franchise Fee: $49,950
Initial Investment: $209,955 - $928,550
You might have noticed the dismal state of laundromats these days.
In the nine years WaveMAX has been in business, it has had an ambitious goal to change all that. It's doing so with impeccably clean facilities and washers and dryers that boast the latest technological innovations.
These cutting-edge features include washers that automatically weigh each load and then put in the exact amount of water needed for the best cleaning. While many washing machines only extract water at 80 to 100 Gs of force, WaveMAX washers spin with 200 Gs of force. This means clothes end up being less wet, and drying costs are less.
WaveMAX dryers track how dry clothes are. They automatically adjust the temperature for optimal drying, so clothes never get singed.
WaveMAX has developed its own system for finding the perfect location for your business. When you use their system, they'll collect data on your target area's average income and do a thorough analysis of the target area. They'll also analyze average income and teach you how to maximize street traffic.
WaveMAX has partnered with Electrolux to provide you with ways to finance the commercial laundromat machines you'll install in your facility. Franchisees are eligible to have up to 70% of their costs covered.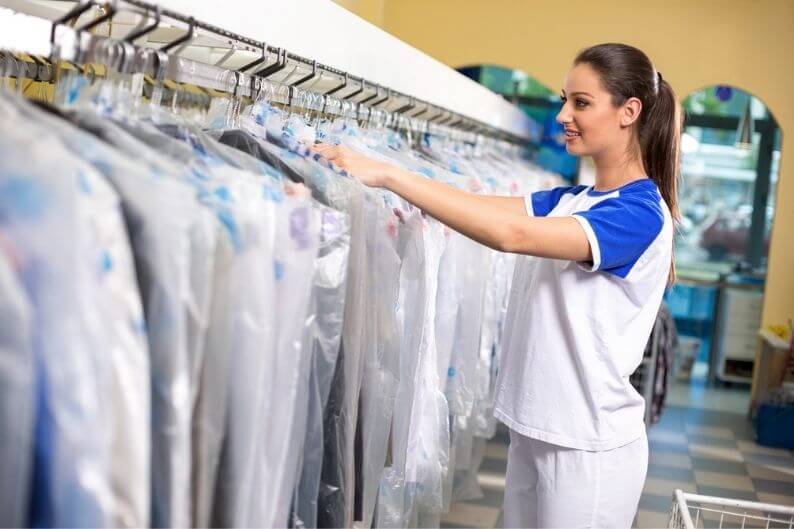 Martinizing Dry Cleaning
Franchise Fee: $69,500
Initial Investment: $419,650 - $735,925
At Martinizing Dry Cleaning customers can get a wide range of services, including dry cleaning, shirt laundry, alterations, wash and fold services, and much more.
One of the things that make this company so popular is the convenience it offers. Customers can stop by a location or get free pick up and delivery at home or work. They also offer around-the-clock locker access so customers can pick up or drop off their garments at any time of the day. The company also is capitalizing on technology by offering service setup online and via a mobile app.
Zoom Express
Franchise Fee: $39,500
Initial Investment: $674,800 - $1,492,750
Zoom Express has a burning desire to revolutionize the laundry industry.
It positions itself as an innovative company with bright, cheery laundry facilities that generate a lot of repeat business. Their washers and dryers don't take coins for payment. Instead, they accept credit cards and mobile ways to pay.
Zoom Express has even created its own mobile app where patrons can pre-load credits they can use to operate the machines.
When you become a Zoom Express franchisee, you'll get assistance in selecting an excellent location, getting set up with reputable vendors, and marketing your business.
The company has developed software that allows each facility to use granular data to boost its operational efficiency. This includes washes per machine and the water used in each wash. This technology is so sophisticated it can figure out who's using each machine and when.
Franchisees can conveniently manage all of this right from a mobile app.
However, this franchise opportunity is only available in Michigan, Texas, Florida, and Pennsylvania.
A Steady Income Stream
If you want a steady income stream, buying into a laundromat franchise can be a good way to go. You just have to do plenty of market research on the area you're looking to set up shop in due to this being a mature industry.
If you decide to go another direction, don't get discouraged. There are plenty of options out there, and we're here to help you find your perfect match.
---