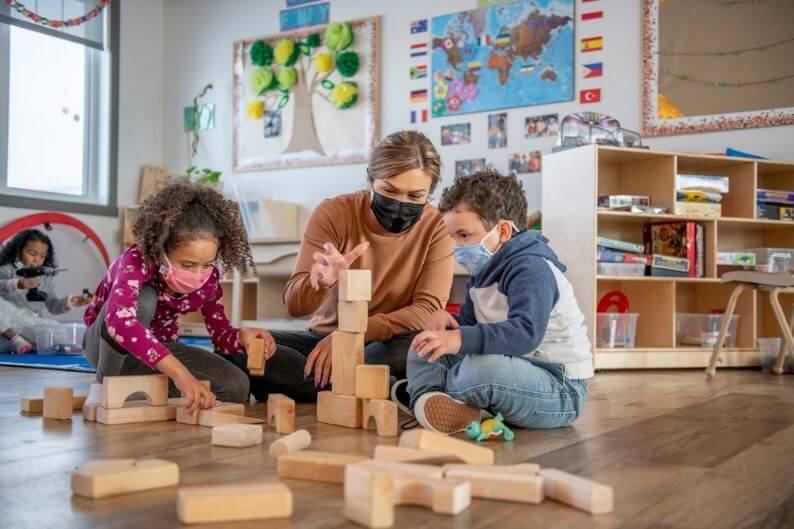 The daycare industry was a $54.3 billion market in 2019, and experts expect it to grow through 2027. With more parents working instead of staying at home, the need for quality childcare facilities just keeps growing.
This article will go into a little more depth on the state of the daycare market before giving the lowdown on 5 of the top daycare franchise opportunities available.
Daycare Industry Outlook
There is an increased demand for daycare due to more women in the workforce, more double-income families, and increased government funding for childcare. Early childhood education dominates the daycare industry, making up 46% of the total industry in 2019. Other market segments include early age childcare and backup care for children of all ages.
At a growth rate of 3.9%, the current revenue forecast for the daycare industry in 2027 is $73.8 billion.
At-home daycare services are also likely to experience growth over the next few years; however, brick-and-mortar childcare centers, particularly franchises, still make up the bulk of the industry. Parents want to be reassured that their children are not only being cared for but also spending their time in a supportive and nurturing environment.
The majority of childcare centers in the U.S. that shut down due to the pandemic have reopened as of June 2020. As many offices begin to re-open for employees, parents are now relying on childcare centers to be able to go back to work. By September of 2020, over 60% of parents to preschool-age children had returned to working in an office.
The American Rescue Plan
Affordability has been a significant concern over the past year since many parents experienced job loss or job insecurity during the pandemic. The federal government recently announced plans to increase childcare support and funding to help our economy recover.
Vice President Kamala Harris stated during an address on April 15, 2021, that the American Rescue Plan will include $39 billion to help childcare centers re-open or stay open, maintain or re-hire staff, and purchase necessary supplies for the health and safety of their employees and the children in their care.
This new plan also includes subsidies for families to pay for childcare and expands childcare tax credits for children under 13. For many people, women of color, in particular, childcare is a prerequisite for them to be able to work. This plan will increase access to childcare for those who rely on it to support their families and to be able to perform their essential job roles.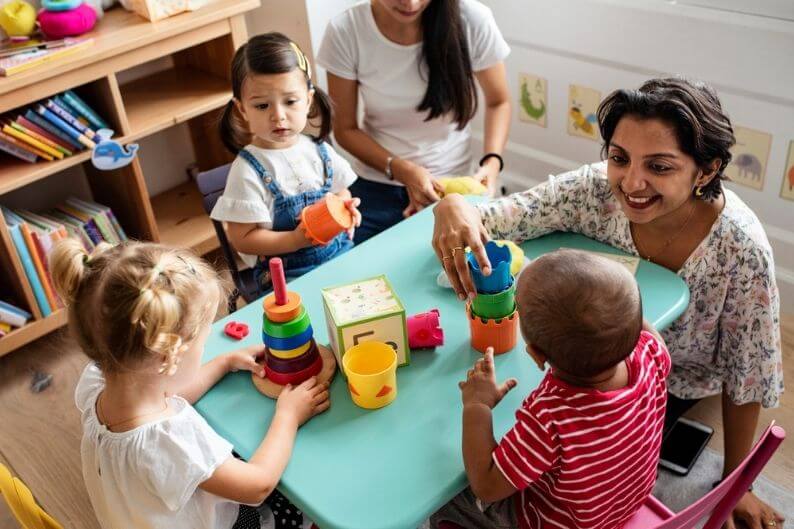 Top Daycare Franchises
If you're ready to open the doors of your very own daycare franchise, we've compiled a list of our top five franchise opportunities (for a complete list, visit our Franchise Directory).
The Goddard School Franchise
Franchising Since: 2002
Minimum Investment: $697,100
Royalty Fee: 7%
Locations: 519
[Information from the 2020 FDD]
The Goddard School offers preschool programs and general childcare services for children aged six weeks to ten years old. They boast an "innovative, play-based curriculum" and have been named a top childcare franchise by Entrepreneur Magazine and Franchise Times.
You will need no prior teaching experience to invest in a Goddard Franchise; you'll recruit an Education Director as part of the franchising process.
Primrose Schools Franchise
Franchising Since: 1988
Minimum Investment: $4,449,500
Royalty Fee: 7%
Locations: 395
[Information from the 2019 FDD]
Primrose Schools' proprietary Balanced Learning curriculum focuses on inspiring creativity, compassion, and resourcefulness alongside traditional early education. This research-based, early education accredited methodology promotes a lifetime love of learning and has well-documented success. The Primrose Franchise ranked #5 in Forbes' List of America's Best Franchise to Buy in 2019.
Kiddie Academy Franchise
Franchising Since: 1992
Minimum Investment: $345,000
Royalty Fee: 7%
Locations: 263
[Information from the 2020 FDD]
Kiddie Academy has ranked among Entrepreneur Magazine's Franchise 500 for 19 consecutive years and has also been recognized by Forbes, Franchise Times, and the International Franchise Association. With a strong business model and a robust curriculum for children up to 12 years of age, the Kiddie Academy is a strong presence in the educational childcare industry.
The Learning Experience Academy of Early Education
Franchising Since: 2010
Minimum Investment: $544,419
Royalty Fee: 7%
Locations: 267
[Information from the 2020 FDD]
The Learning Experience Academy of Early Education has a unique real estate model: the franchisor takes care of the entire real estate and development process on behalf of the franchisee. Many locations are immediately available for a franchise operator!
45% of TLE owners are multi-unit franchisees, which says a lot about the level of satisfaction and trust in the franchisor. They also offer a veteran discount of 10% off the franchise fee.
In addition to growing the franchise throughout the U.S., The Learning Experience is also expanding internationally.
Lightbridge Academy Franchise
Franchising Since: 2011
Minimum Investment: $549,228
Royalty Fee: 7%
Locations: 36
[Information from the 2019 FDD]
Lightbridge Academy places a strong emphasis on culture and community. In addition to providing the best possible care for the children, the leadership team at Lightbridge Academy strives to create a positive environment for franchisees, employees, and parents to thrive.
They have also created Lightbridge Foundation, Inc., which raises funds for scholarships, grants, and local charities that help children and families in need. If you want a franchise that truly gives back, look no further than Lightbridge Academy.
Molding the Future
If you are looking for an easy, high ROI franchise opportunity, childcare may not be what you are looking for. But if you have a passion for our youth and the care and development of the upcoming generation, a daycare franchise could be your path to fulfillment.
As with teaching, childcare is a labor of love. The benefits of working in this industry are more than a paycheck. The impact and importance of proper child development is in itself an enriching career and experience.
If you're ready to leave your impact on future generations, get started with a daycare franchise today! Franchise123 can help you research and compare daycare franchises to find the right one for you.
Get started today!
---