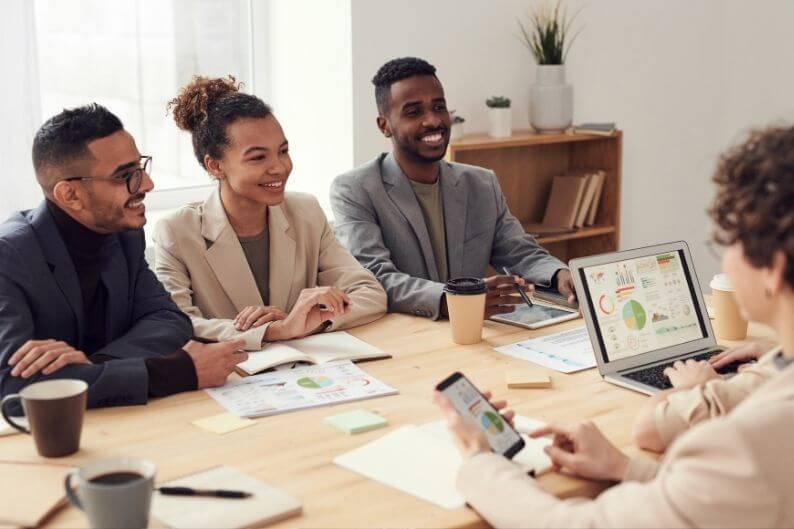 If you're looking to join a franchise that's leading the brokerage industry, then Murphy Brokerage is an excellent option!
In an industry valued at $313.3 billion in 2021, buying into a Murphy Brokerage franchise opportunity might be your best chance to dominate the brokerage business in your area.
According to IBISWorld, revenue from brokerage services is projected to rise over the next five years as corporations look for mergers and acquisitions possibilities in a gradually improving economic climate.
With Murphy Business, you can build your own business as a business broker, helping others achieve their dreams of business ownership using your skills, experiences, and education.
Researching a franchise opportunity can be time-consuming. However, this guide provides you with a breakdown of what you need to know to start a Murphy Business Broker franchise, including the franchise cost and the opportunities involved.
Overview of Murphy Business Brokers
Murphy Business Financial Corporation LLC opened its doors in 1994 and has since established itself as the largest and most successful brokerage business in North America.
With a presence in 36 US States as well as Canada, Murphy Brokerage offers a range of services such as facilitating business sales and purchases, business valuations, merger and acquisition services, business consultations, appraisals of machinery and equipment, and sales of commercial real estate.
Known for its high closing rate compared to the industry's average, Murphy Business has received many accolades, including being named one of Franchise Business Review's Top 50 Franchisee Satisfaction Award winners for ten consecutive years.
Murphy Business Brokers promotes corporate sales in a way that is purposeful, ethical, and customized. The company's philosophy is simple: to conduct business ethically and provide excellent customer service to clients. They give potential buyers detailed information and thoroughly qualify each one on behalf of the sellers.
How Much Does A Murphy Business Franchise Cost?
Now it's time to address the big question: how much does a Murphy Brokerage franchise cost?
While the cost of a Murphy Business Broker franchise varies depending on the size of your business, its location, and the number of units opened, it is a relatively low-cost, low-overhead franchise. Therefore, the greatest asset you'll require is an entrepreneurial drive and sound business knowledge.
Here is a breakdown and range of the financial requirements to open a Murphy Brokerage franchise:
Total investment range: $13,467–$83,460
Initial franchise fee: $8,000–$47,500 (varies by location)
Liquid capital: $100,000 minimum
Royalty fee: 10%
The company also offers 3rd party funding options, and veterans get access to a $5,000 reduction in the franchise fee.
Royalty fees, mortgage/reproduction supplies, staffing, utilities, bookkeeping, stationary, and other expenses are all included in your monthly running costs.
However, your upfront franchise fees are generally fixed and will cover most of the initial setup of equipment, signage, and improvements.
Benefits of Buying A Murphy Business Broker Franchise
Murphy Business offers some amazing benefits to their franchisees, including:
Broad Business Listing Network
As North America's largest and most successful business transfer company, Murphy Business has a broad network, which brings their businesses to listings on both national and international brokerage networks and exposes them to a bigger pool of possible purchasers.
Franchisees' businesses are listed on more than a dozen of the most popular business-for-sale websites, and the franchisor pays for the expense of entering and maintaining those listings.
Business Training and Support
Murphy Business offers training programs and unparalleled business support to new and experienced business brokers alike.
The training is designed to educate franchisees on all they need to know about business brokerage and the company's services and provide them with tested-and-true marketing strategies and tools to achieve business success.
The company also offers continuing training and assistance, including a well-known annual education conference, where business brokers meet with professional partners and network with other brokers within the system.
Diverse Streams of Business Income
Franchisees have the benefit of offering multiple services which provide a full complement to clients' needs.
Company brokerage, business valuation services, machinery and equipment assessments, mergers and acquisitions, business consultancy, and commercial real estate are just a few of the services franchisees provide to their clients, giving room for multiple income streams.
Proprietary Systems and Resources
Franchisees have access to a comprehensive library of resources needed to run their company, including forms, documents, market research materials, marketing and advertisement resources, and more.
Other perks include:
Brand authority in the brokerage industry


Option to work from home or a physical office


Low entry franchise fee


Proven lead generation methodologies


Business Listing System (BLS)


Sole proprietorship


Ongoing "back office" assistance



Training

The Ideal Candidate for a Murphy Business Broker Franchise
Murphy Business has a strong brand, excellent franchisee support, and tremendous profit potential, yet joining the franchise demands certain qualifications and attributes. If you lack the necessary experience and attributes, you may have difficulty managing your location or getting your application approved.
Here's what the ideal Murphy Business Broker franchise candidate looks like:
Has a background in corporate management



Has an average annual income of $60–$150K and a net worth of $250–$600K



Has a minimum of $100K in liquid capital



Is self-assured and enjoys collaborating with others to help them realize their objectives and goals



Can picture themselves working as a business consultant



Has excellent interpersonal skills



Is committed to business and marketing education



Demonstrates flexibility in making business decisions in response to changing market trends
Bottom Line
Starting a brokerage firm as a small business owner can be difficult. However, joining a franchise will assist you in overcoming several obstacles.
In terms of training, support, protocols, corporate office systems, ethics, and professionalism, Murphy Business is definitely in a class by itself, leading the brokerage industry.
Murphy Business, without a doubt, gives a strong possibility of success to anyone considering a career as a business broker.