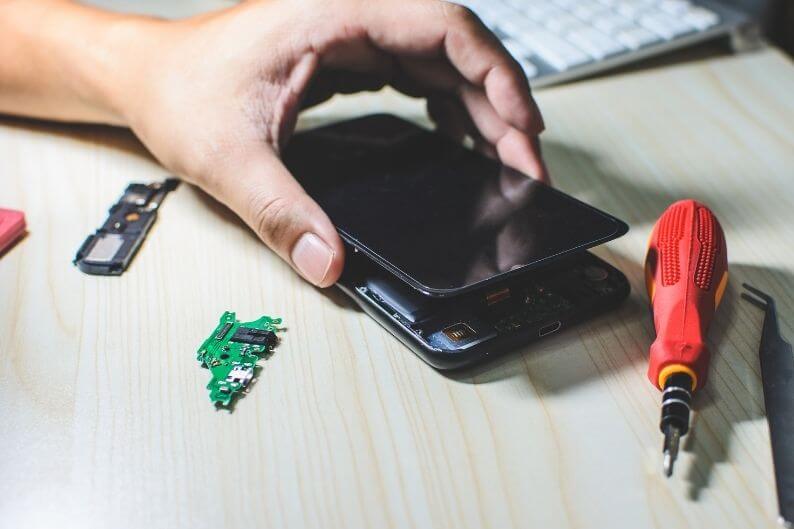 There's an ever-growing market for quality electronic repair. The average US household has 5.7 Internet-connected devices, and the number is growing every day.
Once upon a time, mobile gadgets were seen as disposable. As their complexity increased, so did their cost. Nowadays, these devices aren't looked on as expendable anymore, meaning users are more likely to get them repaired.
Smartphones tend to have more fragile screens than less technologically sophisticated cell phones. In the US, a smartphone breaks at the rate of every two seconds. This means we won't see the death of the cell phone repair industry anytime soon.
Sometimes, individuals whose phones get damaged consider plunking their money down for a brand-new one. When they start thinking about the colossal amount of data stored in that phone that just fell in the pool, they suddenly have the overwhelming urge to see if it can be fixed.
When you have that much valuable information stored in your smartphone, getting it repaired becomes a better option than replacing it.
Industry Outlook
The cell phone repair business is an industry with seemingly limitless demand with annual revenue of over $1 billion and a projected annual growth rate of 4.9%.
The cell phone repair industry has skyrocketed in direct proportion to the increase in the popularity of smartphones. With the number of people owning cell phones increasing every day, it's no wonder that cell phone repair franchises are so profitable.
Unfortunately, the after-sales support that the big cell phone companies offer is expensive. There's also the hassle and needlessly complex hoops an individual must jump through to get their phone repaired.
This enormous expense and bother are why so many customers choose to turn to a cell phone repair shop not affiliated with a major manufacturer. These types of shops are particularly attractive to people whose warranty has expired.
Mobile devices have become indispensable for everyone, no matter if they're Baby Boomers or Generation Z. As a cell phone repair franchise owner, you'll be able to tap into this potentially lucrative market.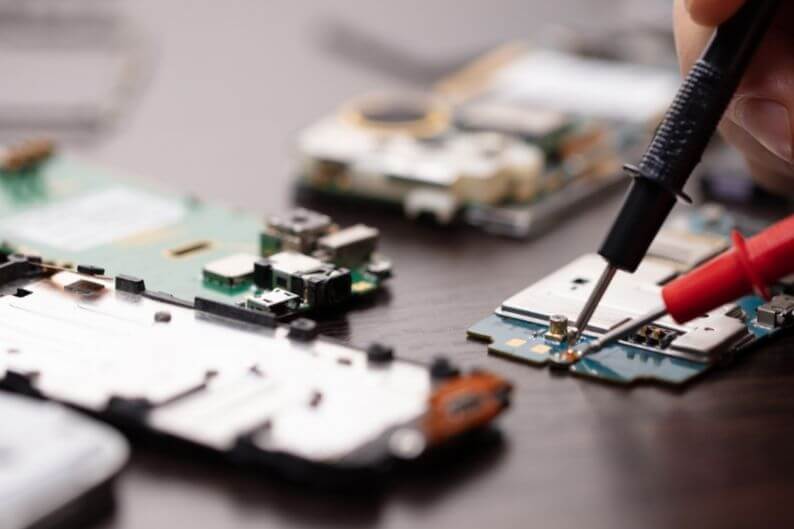 If you're looking for a franchise opportunity, here are the five best cell phone repair businesses to check out:
CPR Cell Phone Repair
CPR dominates the industry and is the country's oldest and biggest mobile repair franchise. It began its corporate existence in 2004 and started selling franchises in 2007. In 2021, Entrepreneur magazine ranked the company number six on their "Top Franchises for Less Than $100,000" list. As of 2020, there were 544 stores in the US.
They offer walk-in, drop-off, and mail-in repair services for cell phones and other electronic devices. They also sell smartphones, game systems, music players, and parts and accessories.
To purchase a CPR Cell Phone Repair franchise, you'll need to have at least $50,000 in the bank and a minimum net worth of $100,000. Your total investment will be between $58,150 and $176,000.
The company charges a franchise fee of $37,500. It offers financing via a third party for franchise fees, startup costs, equipment, inventory, accounts receivable, and payroll. It also provides a 10% discount on veterans' franchise fees.
Franchise owners will need to complete 48 hours of both classroom training and on-the-job training as part of comprehensive instruction to learn how to operate a cell phone repair store. When it's all said and done, you'll be certified to repair all makes and models of phones, create an attractive store design, and many other things too.
uBreakiFix
uBreakiFix refurbishes and repairs smartphones, computers, tablets, and gaming consoles. The business was started in 2009 in Orlando, Florida, by two friends in their living room.
Most of their over 600 stores are in the US. However, there are also franchises in Canada and the Caribbean Islands. In 2109, Asurion LLC, an insurance company, acquired the business.
In 2016, Google authorized them to be the only walk-in repair provider for the Pixel and Pixel XL. In 2018, Samsung arrived at a similar agreement with the company.
The franchise was listed 18th on Entrepreneur's 2018 Franchise 500 list. The company also was honored by the Orlando Business Journal as one of 2019's "Fast 50," a list of the top 50 fastest-growing private companies in Orlando.
Prospective franchise owners will need $125,000 in "non-borrowed personal resources," including liquid assets such as cash and marketable securities.
In addition, they must have a net worth of at least $200,000. The total investment is between $44,600 and $197,950. Financing needs to be secured through third-party lenders.
iDropped
iDropped was founded in 2012 and has been franchising since 2014. The company started when Charles Hibble's wife kept breaking her phone.
He learned how to fix it himself so he could save his family wads of cash. He enjoyed fixing cell phones so much, he built an entire business around it by creating iDropped with his friend and long-time business partner Chad Altier.
As an iDropped franchise owner, you'll receive two weeks of in-depth training at their company headquarters in Northeastern Pennsylvania. If you can't make the trip to the Keystone State, the company offers an accelerated training program at your location.
The initial franchise fee is $30,000, total investment is between $60,100 to $119,089, total required liquid capital is $75,000, and the net worth requirement is $125,000.
Experimax
In 2009, a father and son started Experimax by selling and fixing Apple products out of their garage. The duo soon moved their operation to a retail location in West Palm Beach, Florida.
The company specializes in the sales and service of Apple products. They also offer trade-ins of existing devices and sell accessories, upgrades, and software.
The initial franchise fee is $49,500, and the liquid capital requirement is $60,000. Most franchise owners will invest around $165,000 to $175,000 to get their business off the ground.
As a franchisee, you'll undergo two weeks of intensive training at the company's global headquarters in West Palm Beach. After you complete your schooling, you'll get personal one-to-one attention in your own store. This will ensure that you have the keen expertise you need to make your business a resounding success.
You'll continue to receive instruction through their World Expo events, online education portal, and regional meetings.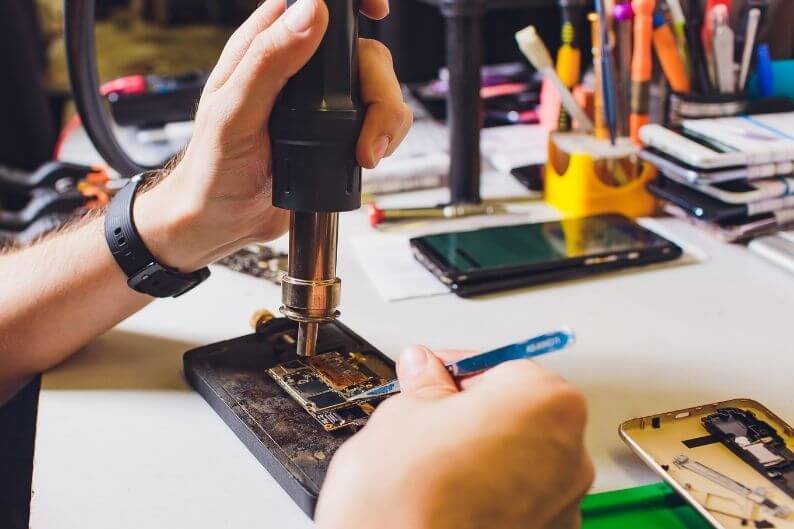 Lifeline Repairs
Lifeline Repairs started in 2012 and operates 17 franchises in the Southeastern US. However, they have ambitions to expand to the rest of the US. According to the company, their brand reputation "has been built on excellent customer service, amazing product quality, innovative thinking and most importantly, the customer experience."
In addition to cell phone repair, the company fixes:
Drones

Computers

Tablets

iPads

Fitness watches
The company also sells refurbished smartphones and parts for customers to fix their own devices. As a Lifeline Repair franchise owner, you'll receive training in:
Operations management and support
Search engine optimization

Booking events and shows

Business development assistance

Prospect leads

Corporate website management
Your comprehensive training program begins in Atlanta, where the corporate headquarters are located. Here, you'll learn all the skills you need to build your business.
To buy a franchise, you'll need $75,000 in liquid capital and a total investment of $95,000 to $145,000. Third-party financing is available.
Finding the Franchise That's Right for You
Whether you're looking for a cell phone repair business or some other franchise opportunity, Franchise123 can help you sort through a myriad of possibilities to find the one that's right for you.
To begin your exciting franchising journey, all you need to do is sign up for a free account.
Get started today!