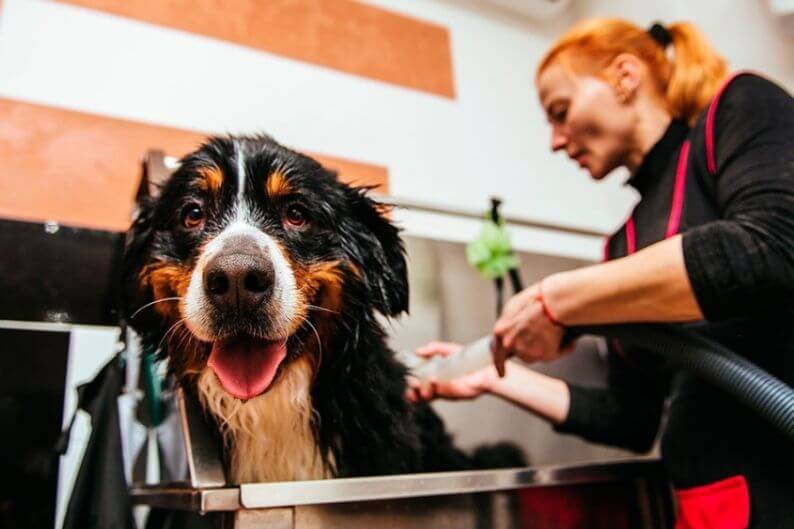 Pets are a part of the family. They are a source of companionship and comfort, especially in our current climate of social distancing and working from home. Pet adoption rates have increased by 110% since the onset of the COVID-19 pandemic.
More time at home and more time in social isolation have inspired a record amount of people to adopt a four-legged family member. Pet owners agree that animal companions help decrease feelings of loneliness and isolation and that pets positively influence their physical and mental health.
Splash and Dash Groomerie and Boutique
With all of the franchise opportunities out there, how do you pick the right one? If you've been considering owning your own pet business, Splash and Dash Groomerie and Boutique is one of the best in the industry.
Part of the Recession-Resistant Pet Industry
The pet industry has been one of the few sectors that have flourished during economic downturns. During the financial recession of 2008, the industry experienced 17% growth.
Pet ownership is on the rise, and pet spending per household increased by 36% between 2007 and 2017. These days, many people are waiting until later in life to have children, and their pets, in effect, become their "children."
Even during the current economic challenges, our franchisees are busier than ever. All of our franchised locations have experienced an increase in same-store sales compared to last year, with 40% seeing double-digit growth! During a pandemic!
While customers may be willing to cut back on some expenses, their pets' care is not one of those services they are ready to sacrifice.
Recurring Revenue Business Model
Modeled after the fitness industry, the Splash and Dash Monthly Bath Membership takes advantage of the recurring revenue that monthly memberships bring in. Not only does this create a stable, predictable income stream, but it also encourages customer loyalty and provides upsell opportunities.
This type of model is atypical for the pet industry, which is precisely why Splash and Dash is highly regarded for its innovation in the industry and why their customers choose them over the competition.
Here are some of the key perks of the recurring revenue system:
Dependable and predictable revenue

Brand enthusiasm

Frequent visits and more customer face time

More upsell opportunities

Scalable

Convenient for customers

Easy scheduling

Consistency in service
Top-Notch Bathing and Grooming Services
Efficiency. Quality. Satisfaction.
It's not just about being in the right industry; it's about being the best. And Splash and Dash has spent the last several years building the best possible business model for franchisees. At the pinnacle of their business model are bathing and grooming services, which are of the highest quality around. Not only do they boast quality, but they've perfected operational flow to create the most efficient process for bathing and grooming, leading to happy customers and happy pets.
The more efficiently you can run your business, the more you can earn at the end of the day. And the happier your customers are with the services you provide, the more new business you will attract.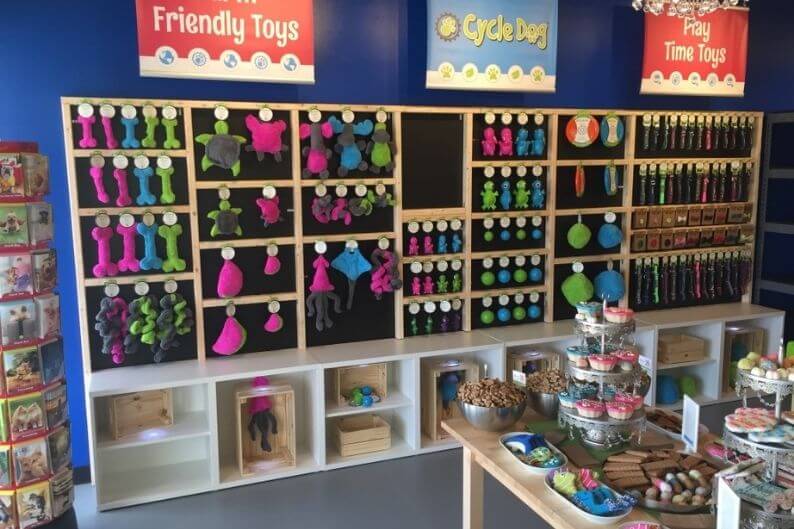 Premium American Pet Products
Splash and Dash pet food and supplies are all sourced from high-quality American vendors carefully selected by their corporate staff. They also offer custom treats made with premium ingredients.
Some of their food vendors include Acana, Canidae, Merrick, Natural Balance, Taste of the Wild, and other natural and organic American-made brands. They only stock food products that keep pets healthy and their owners happy.
They also responsibly source our pet accessories. One of our primary brands for accessories is Cycle Dog, which makes leashes, collars, and more out of high quality recycled goods.
Their Own Line of Dog Treats
As a part of their high-quality treat offerings, Splash and Dash has developed its own line of all-natural dog treats, made with seven USDA-certified ingredients or less. Their treats are free of feed-grade ingredients, additives, preservatives, and artificial flavors—they are 100% human-grade. They also serve as an excellent source of Omega-3 and Omega-6 fatty acids, which have a long list of health benefits, including reducing chronic disease risk in dogs. Best of all, their furry clients can't get enough!
The Keepin' it Simple line of dog treats is sold exclusively at Splash and Dash Groomerie and Boutique and is available to franchisees only. Current flavors include PB & Jelly, Southern Sweet Potato, and Pumpkin Patch
The "Pet Business Coach" Is on Your Side
Dan Barton, Founder and CEO, has been nicknamed the "Pet Business Coach" for his ability to build thriving pet businesses. He opened his first pet grooming business in 2009, inspired by his love for his Yorkie, Mercedes. Coming from a fitness background, Dan had the revolutionary idea to apply the membership model commonly seen in gyms and fitness facilities to his groomerie.
His business model took off, and in 2010 Dan started licensing the Splash and Dash Monthly Bath Membership to pet groomers across the country (He even published a book on how to run a successful pet business: Stop Your Bitchin' and Start Making Money Now!).
Quickly realizing he was onto something special, he launched the Splash and Dash Boutique and Groomerie Franchise in 2014 and hasn't looked back. In that very same year, Splash and Dash made the INC 500 list of fastest-growing privately held companies in America.
The company's fearless leader has created a robust business model and franchise system that you will not find the likes of in this industry! Dan saw an opportunity in the market to do things differently, and he continues to challenge the norms and push the brand to be the best
Fastest Growing Pet Franchise in North America
Aspioneer recently named Splash and Dash Groomerie and Boutique one of the hottest franchises of 2020. Better yet, it's the only pet franchise business to make it onto the list!
They are racing past the competition as the fastest growing pet business franchise in North America as more and more people catch on to the unique business model and strong ROI it provides.
Splash and Dash has turned heads, not only in the pet industry but in the franchise industry as a whole. They are not here to repeat what's been done before. They are here to revolutionize the industry and provide a thriving business model for franchise owners.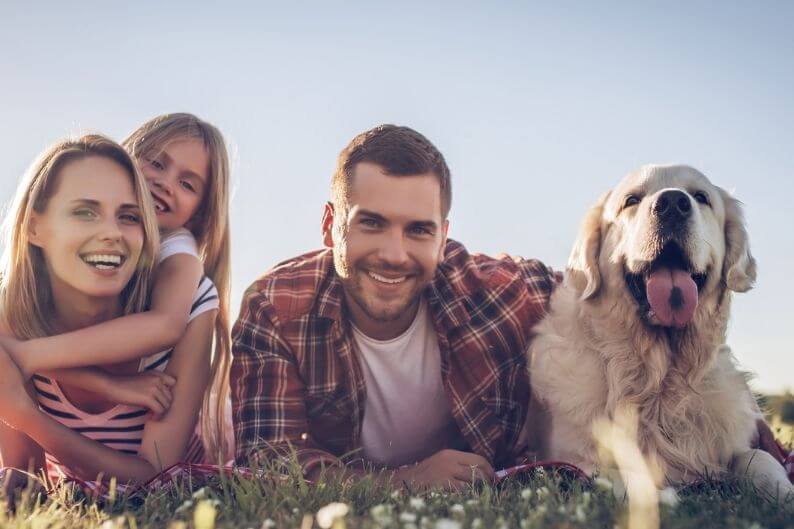 Low Investment and High ROI
Opening a Splash and Dash Groomerie and Boutique is a low investment opportunity with strong return potential.
With a total initial investment between $143,250 to $272,600 and a royalty fee of 8%, franchisees can get their business up and running for much less than it could potentially cost to start a pet business from scratch. The store build-out process and road map to grand opening are all laid out for you, so you don't have to waste time and money figuring out what works for your business.
As a part of your investment, you'll have access to years of combined expertise in the pet business, top of the line technology, supply chain management, marketing and advertising, and so much more. They are behind you with every step.
Think of Splash and Dash as a mom and pop business with the support and resources of a national corporation. It's truly the best of both worlds.
Real Estate and Build-out Support
Once you have signed on as a franchisee, the Splash and Dash team will work closely with you to determine the best location for your business based on demographics, ease of access, nearby businesses (including direct and indirect competition, as well as complimentary non-competing companies), and more.
Their playbooks, guides, and corporate support make setting up your shop easy!
The Splash and Dash corporate team will help build and set up your shop based on brand and design guidelines, making the process smooth and efficient as you prepare for your grand opening. They also provide easy to follow visual guides for stocking inventory in a way that is visually appealing and efficient for re-stocking.
Franchisee Training
No experience working with pets? Never owned your own business before?
Not a problem. Splash and Dash University will teach you everything you know about opening and operating your business and how to hire and train the best groomers, bathers, and staff. With on-site franchisee training, ongoing e-learning, and never-ending support, they've got your back.
SD Connect is another online resource available to all franchisees. Take ongoing training courses, request support from HQ, and communicate with other franchisees for best practices. With the entire Splash and Dash family behind you, you will never be in this alone.
Like everything they do at Splash and Dash, they've built their training programs with you in mind. They want to prepare you to run a successful business and grow with the Splash and Dash brand. Your success is their success.
Franchisee Marketing Support
One thing Splash and Dash boasts is their in-house print shop for all of your marketing and advertising needs! Use their online portal to order from various pre-made marketing materials for your business, or send in a custom request for a promotion or special event you are holding.
Experts at HQ have the marketing and design knowledge to create effective, targeting marketing pieces that will accomplish your goals, whatever they may be. You'll also benefit from pre-made graphics and content for social media, as well as tips to maximize your online customer engagement.
Have questions about marketing or the best way to promote a special event or specific service? They're here to help with custom marketing strategies on an individual basis.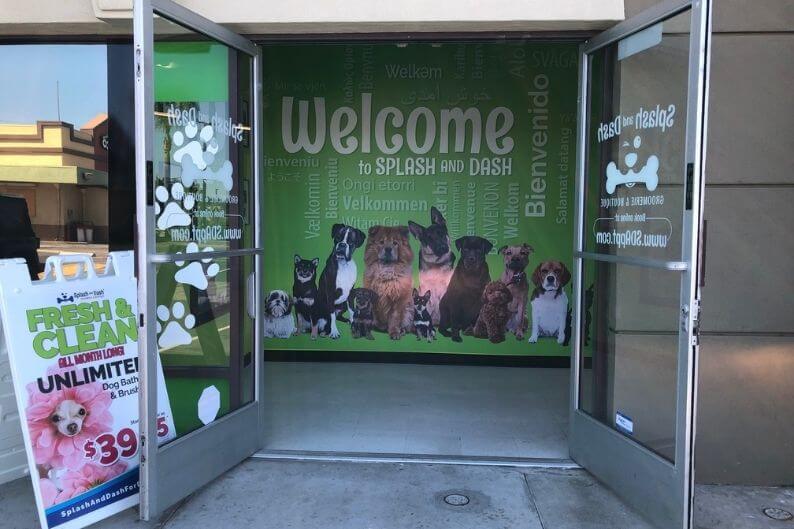 Have high-quality marketing materials ready for you at the touch of a button so you can go back to what's important: running your business and providing the best possible customer experience!
Proprietary Technology
Splash and Dash's highly efficient system for booking appointments, processing payments, and handling business operations has been custom-made to ensure high-quality care for clients.
Their technology has been custom made for Splash and Dash to include everything you need without all of the extra fluff. It's simple, user-friendly, and does all of the hard work for you in the background!
They also continually optimize technological features based on feedback from you! Franchisees often come up with the best ideas for improving current systems, and they take those recommendations to heart. They are always striving to provide an optimal experience for you, your customers, and your employees.
Quality and customer satisfaction is Their number one priority. Their technologies ensure a comfortable and pleasurable experience and timely automated reminders for customers to pick up their pets once they're ready.
Bookkeeping
As a part of their services for you, corporate staff provides bookkeeping services for your business. They've developed their technology with easy Quickbooks integration, so data transfers easily and tax time is a smooth ride.
Finances are the number one concerns their franchisees have, and if managed poorly, they can ruin your business. They've taken that responsibility off of their franchisee's shoulders so they can rest easy knowing their business is in good hands.
Their dedicated bookkeeper is always available to you for any questions regarding your business. Bookkeeping support is just another way that Splash and Dash has your back!
Adaptations for COVID-19
Like all businesses across nearly every industry, Splash and Dash has had to adapt to new norms since COVID-19 emerged. To put the health and safety of their franchisees, their staff, and their customers first, they've made changes to the way they operate, some temporary and others long-term.
Short-term changes include curbside drop-off to minimize close contact. Contact-free payment, implemented in response to COVID-19, will be sticking around thanks to the convenience it provides shop owners and customers alike.
As mentioned before, the pandemic has not slowed down business. Despite mandated temporary closures, franchisees have seen an increased demand in services. 40% of their shops witnessed double-digit increases in sales between June 1st and August 31st compared to the same time last year.
NPS of 85
NPS, or Net Promoter Score, is an indication of how likely customers are to refer business back to you. Having a high NPS is a considerable benefit to the growth of your business.
When your customers are speaking highly of your business, that is virtually free marketing on your behalf. Positive online reviews also go a long way in attracting new customers by providing external social proof and creating credibility and authority for your shop.
Splash and Dash is proud to boast a Net Promoter Score of 85, which blows the competition out of the water and even surpasses consumer-favorite brands like Apple, Amazon, and Starbucks.
Franchise With Splash and Dash Today
Splash and Dash is proud of the reputation they've built among clients and franchise owners, and they love watching franchisees flourish and grow as business owners. Splash and Dash is a one-of-a-kind franchise opportunity for pet lovers and motivated individuals to turn their passion into their profession.
Join the Splash and Dash family today to experience all of these benefits for yourself! Have questions about our franchise opportunity? Reach out to us, and we'll be happy to help!
---