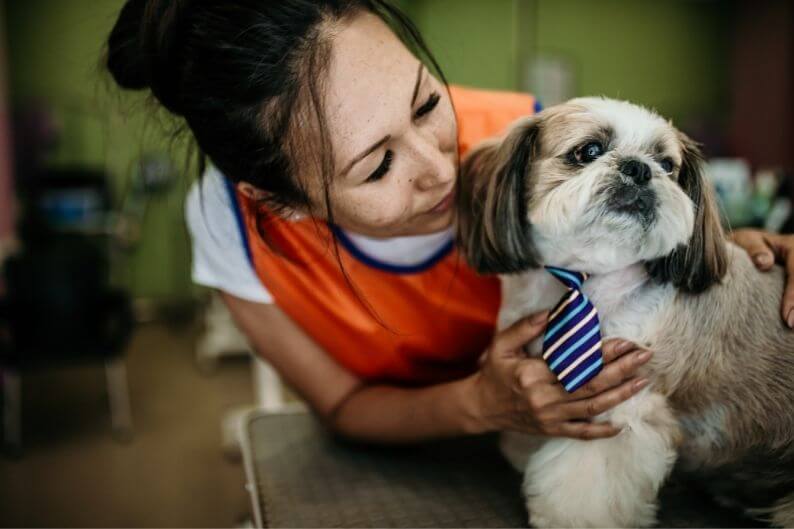 There's no love quite like a love for our four-legged companions. If you belong to one of the nearly 85 million households with a pet, you'll likely agree. If you've been considering a career change, what better way to combine your passion with your profession than to start a pet grooming business? It's a profitable industry that allows you to control your own schedule, finances, and future while getting to do what you love!

By providing grooming and bathing services to your community, you'll not only be providing an essential service to your community, but you'll also form meaningful relationships with your clientele, both human and otherwise. After all, your customers are not just coming to you to make a quick purchase. They are entrusting you with the care of their beloved pets. At the end of the day, you'll feel much more fulfilled than you ever could with a fast food joint or retail franchise.
Love dogs but not into grooming? Check out opening a dog daycare franchise instead!
Let's dig a bit more into the pet industry and why it's such a prime opportunity for franchising.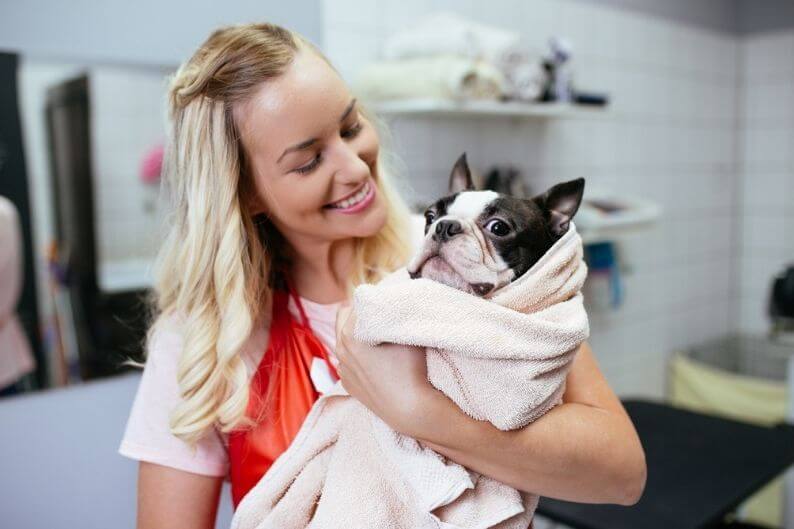 The Pet Industry
Both in and out of the franchising world, the pet industry is a lucrative and ever-growing market. The total amount of money spent on pets has nearly doubled in the past five years, reaching a whopping $95.7 billion in 2019 and an industry projection of $200 billion in 2025.
Proper care and grooming of pets is a necessary service and is considered essential. Historically, the industry has proved to thrive even during the worst economic times (2008 ring a bell? The pet industry experienced a 17% growth). With pet ownership skyrocketing in our current COVID-19 climate, the industry has continued to prove its importance.
Pet Ownership in the U.S.
According to a recent survey conducted by the American Pet Products Association (APPA), 84.9 million (67%) of American households own a pet. This has grown from a mere 56% in 1988. By the end of this year, it's estimated that American pet spending will reach $99 billion.
Dog ownership alone has risen from 44% of all American households in 2016 to 50% in 2020. 73% of pet-owning households have at least one dog, with cats coming in second place. Only 10% of pet owners have an animal other than a dog or cat.
Industry revenue has increased over the past five years, with a 4% increase in 2019 to reach $21.1 billion.
Pet ownership in the U.S. according to the 2019-2020 APPA National Pet Owners Survey:
An increase in dog adoptions has been a significant driver for the industry's growth. This increase can be attributed to rising per capita income, psychological and physical health benefits of pet ownership, and more people staying at home due to COVID-19.
Rising Per Capita Income
The median household income in the United States has been steadily increasing since 2013. Between 2017 and 2018 alone, income in 10 of the 25 most heavily populated metropolitan areas and 14 U.S. states saw a significant increase.
The median household income in the U.S. as of 2019 was $65,712, which is up $2,533 from 2018. As individuals and families experience rising income and increased financial security, pet ownership also increases in popularity.
They say money can't buy happiness, but if it can afford you a new four-legged family member, that's almost the same thing, right?
Psychological Benefits
74% of pet owners attribute their pet with a reduction in stress and better overall well-being. Whether it's for companionship, protection, a medical need, a playmate for the kids, or a love of animals, having a dog can provide countless benefits.
As the mentality and rhetoric surrounding pets evolve, people begin to look at their pets more and more as essential members of their family. There are few people out there who couldn't be cheered up by a dog's head in their lap. In this day and age of overwhelming responsibility, stress, and hustling, many people turn to their pets for comfort and companionship at the end of a long day. People with mental health illnesses can also benefit significantly from having a dog around.
Physical Health Benefits
The benefits of pet ownership extend beyond emotional well-being. Clinical studies have proven that having a dog around can decrease blood pressure and cholesterol levels and reduce the risk of heart disease, especially for individuals who live alone. People who experience chronic pain also report reduced pain levels when there is a dog present.
Having a dog also requires walking and exercising regularly, which has the added side effect of keeping dog owners more active and healthy.
COVID-19 and Pet Ownership
A strange phenomenon occurred shortly after the onset of the COVID-19 pandemic: animal shelters everywhere were getting cleared out! Whether it was the fact that people had more time on their hands or felt more isolated from others than ever before due to stay-at-home orders, record numbers of people decided to bring a dog home.
According to the Pasadena Humane Society, they received an influx of 1,451 adoption requests in March of 2020 despite having only 124 animals at the time.
Fostering also became popular and necessary during the quarantine since shelters were not able to operate normally.
This surge in adoptions had an interesting ripple effect throughout the pet industry. One product that saw an uptick in sales between March and August of 2020 was dog diapers—likely due to all the newly adopted puppies being house trained!
A Closer Look
The US pet industry can be broken down into the following categories with respective percentages:
Pet Food 36%

Veterinary Care 27%

Pet Supplies 23%

Pet Care and Services (Grooming and Boarding) 10%

Animal purchases 4%
Keep in mind that these percentages reflect the market as a whole and vary when looking at each specific species. For example, grooming and boarding services are used more often for dogs than cats.
Pet Food
The average yearly spending on food for one pet is $235, and the average per capita pet food consumption is 18 lbs. Pet food (including treats) is the largest segment of the industry, with a U.S. market size of $30.9 million in 2020. Premium, natural, organic, and special diet pet food products have grown in popularity, increasing the market share and profit margin on these items. 72% of pet owners say that giving their pet a healthy diet is a priority, even if it comes at an extra cost.
Veterinary Care
With routine visits averaging $257 a year and $474 for the average surgical visit, veterinary costs make up a substantial portion of pet owners' expenses. With aging pets come increased health care costs, and with certain breeds come specific health concerns.
Pet Products and Supplies
Food bowls, collars, leashes, crates, carriers, toys, and more. As busy as our lifestyles are, products that increase convenience for pet owners take the lead (chew toys that brush dogs' teeth, for example). This is a $4.5 billion industry growing at 2.7%. Specialty, niche products offer the best chances at securing a competitive advantage and setting your business apart.
Pet Care and Services
This segment includes grooming, boarding, and behavioral training. This is the fastest-growing industry segment, as top-class services for pets become more commonplace among pet owners that think of their pets as family. Even during times of recession, pet owners don't halt their spending on their pets. As with food, premium services beyond essential grooming and care packages see an uptick.
The pet grooming industry has grown 4.3% annually for the past five years, reaching $9.2 billion. Demand for these services tends to increase as pets are more often considered a part of the family. Pet owners love to pamper and spoil their pets and provide them opportunities for play and socialization. Boarding is another standard service that dog owners rely on, spending an average of $322 a year.
Animal Purchases
While many pet owners have taken on an "adopt, don't shop" mantra, dog sales still make up 28% of new pet acquisitions, according to APPA's 2019-2020 report. This includes purchasing from breeders (19%) and shopping at pet stores (9%).
Shelters and rescues remain the most popular way to add a pet to the family, at 44%. While not nearly as expensive as buying from a shop or breeder, adopting from a shelter still costs anywhere from $370 to $1020 after adoption fees, spaying or neutering costs, vaccinations, licenses, and necessary supplies.
Industry Growth and Consumer Trends
Why does the pet industry continue to see such strong growth?
Increasing pet adoptions

New developments in veterinary care

Preference for premium foods and organic ingredients

Greater awareness of pet health and nutrition

A greater diversity of products including organic ingredients
The largest segment of market share in the pet industry is taken up by Petsmart at 33.7%, followed by Petco at 15%. Chewy leads the way in annual sales for strictly online pet retailers at $3,500 million, but many consumers purchase products from non-specialty online stores. Amazon and Walmart together make up 47% of online pet product sales. Amazon has even launched a pet food brand called Wag.
E-commerce will clearly be a significant player in the near future of the pet industry and shouldn't be ignored. While brick-and-mortar retailers will not be going away anytime soon, the value of online sales shows that online orders may be an essential complement to your store.
Recession-Resistant Industry
Franchising is a billion-dollar industry that allows business owners to be in business for themselves but not by themselves. Being a part of a franchise provides a benefit when the economy hits tough times. Certainly, some segments of the franchise industry have fared better than others.
The pet industry has shown itself time and time again to remain profitable in times of trouble. It has consistently experienced steady growth throughout the ups and downs of the economy, even experiencing a 17% growth during the financial crisis of 2008.
Changing Demographics
Current consumer trends in the pet industry have become increasingly dominated by millennials, with Gen X and Baby Boomers tailing close behind. More aging Americans are remaining pet owners into their old age than former generations. As the Gen Z youth approaches adulthood, they are also proving themselves to be strong pet market consumers.
Because millennials are leading the way, the way in which pet businesses can best reach their customer base has adapted accordingly. Social media is the most sure-fire way to potentially reach over 90% of this demographic. Shareable, user-generated content combined with specifically designed, targeted advertising is the best way to wield social media to your advantage.
Another side effect of the shift to a millennial-dominated customer base is an increased demand for high-quality, premium products. These consumers are willing to lay down a few extra dollars for better, safer, or longer-lasting products.
Pets as Part of the Family
Why is pet ownership so important to millennials? Well, as major life events like marriage and having children start to get pushed to later in life, millennials turn to pets. Whether it is due to not wanting kids or preparing for parenthood later in life, pets become, in effect, children.
Having children later in life or not at all creates additional time and income that millennials often spend on their pets. Because of the parent/child dynamic between millennials and their pets, the industry has seen an increased demand for luxury products and pampering: better quality food and treats, pet clothing, pet strollers, tech products, and more.
To paint a picture of just how important pets have become to Americans, take a look at these heart-warming numbers:
18% of dog owners have included, or would include, their dog in their wedding

21% of dog owners say their pet sleep in their bed

30% of dog owners purchase dental care products for their pets

66% of dog owners refuse to date someone who doesn't like their pet

70% of dog owners sign their pet's name on greeting cards

78% of dog owners buy their pets several gifts each year

29 million dogs travel with their owners
E-Commerce
E-commerce is becoming a favorable option for many consumers due to convenience, product selection, and comparability. Prices tend to be lower because there is no added mediator.
The pet industry's e-commerce segment experienced an estimated 9.4% growth in 2020, with $5,652.70 spent on online pet supply purchases and $2,503.70 spent on online pet food purchases last year.
Technological innovation has propelled the pet industry forward, changing the customer experience of ordering products and booking services.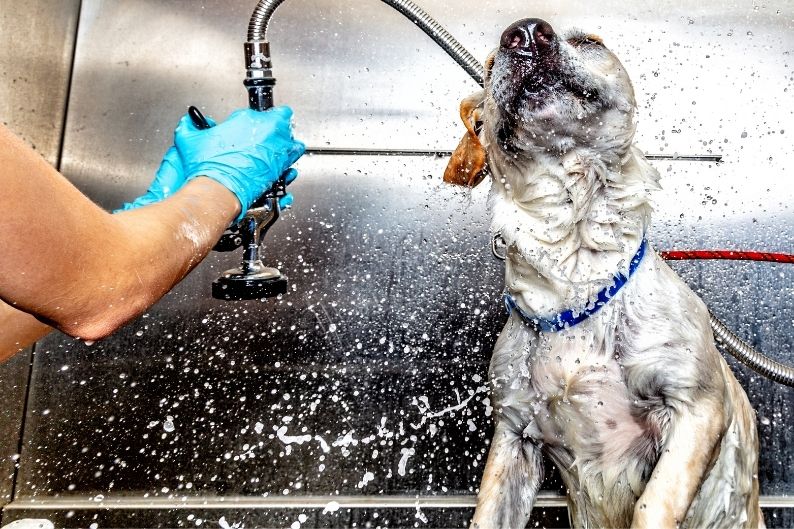 What Exactly Is Franchising?
Franchising is a robust, trusted business model that opens up the opportunity of business ownership to more people who might not otherwise have the skills and resources to do so. Launching a new business is always a risk, but having a franchisor's support behind you can increase your chances of achieving success.
Franchising is a way of doing business that relies on an agreement between the brand's creator (the franchisor) and the individual business owner (the franchisee). While the franchisee agrees to follow brand guidelines and policies, the business is still theirs and theirs alone. That being said, the perks of being a part of a franchise system is that you will have access to a vast amount of resources and support that start-up business owners simply don't have. It's in the franchisor's best interest to see their franchise owners succeed so that they can continue to grow and expand the brand. A reputable franchisor will not only help you get your business up and running but with be there as an ongoing resource to continue to maintain and improve your business performance. Franchisor support includes real estate, construction, marketing, technology, operations, sales, supply chain, and more.
The franchising business model spans all industries. While several fast-food and retail stores may first come to mind, franchise businesses also thrive in the fields of health care, home improvement, business services, pet grooming, and so much more.
Franchising Basics
Let's take a closer look at the two most common types of franchising: product franchising and business format franchising.
In product franchising, a franchisor sells the right to a product, trademark, or brand that the franchisee may use to conduct business.
In business format franchising, which is more common, a franchisee pays ongoing royalties for the permission to use the brand's proprietary business plan. The royalty fee is typically a percentage of gross sales. In this model of franchising, you can expect a significant amount of franchisor support.
Sometimes, several different franchise brands can all operate as a part of a larger organization. This creates opportunities for co-branding or expanding your investment portfolio and creating a more straightforward pathway to scaling your business and increasing profitability.
Owning Your Own Business
If you are looking for a change of pace in your career or life, you may have toyed with the idea of starting your own business. Or, perhaps, you've always had an entrepreneurial spirit and have been waiting for the right time to branch off and start a business.
As you begin to formulate your business plans, there is a lot to do and think about. It's not an easy task, and it's easy to get lost or overwhelmed in the process. It may pose a significant learning curve and require a hefty investment. However, once it's all said and done, there's no doubt being a business owner comes with a certain sense of freedom and accomplishment that cannot be achieved elsewhere. If you want to experience a truly fulfilled life with the flexibility and independence you crave, then it's time to start seriously considering your options.
Is Franchising Right For You?
You may be wondering, why franchise? Why not just start my own business? Well, provided you have a background in business, marketing, operations, and sales, you could no doubt build up a successful business from the ground up with enough time and effort. You'll have to carefully plan and budget and keep a close eye on performance to make sure your money is well spent.
On the other hand, instead of doing everything yourself, you could invest in a franchise that will help you with all of these things. Even if you lack industry experience, the benefit of franchising is the knowledge, expertise, and support the franchisor brings to the table. By following the business model of an established franchise, you'll already be on track for success.
Are you someone who can follow systems and processes? Or do you prefer to go against the grain and express your creativity? With all of the benefits that franchising offers, it also requires a certain amount of discipline and a lot of hard work.
Think of it as a trade-off. You get access to the business model, industry knowledge, and support systems that the franchisor provides, but you will have to sacrifice some of your creative liberties. If this is not something you can see yourself doing, then maybe franchising isn't for you. But if you can see the benefit in the franchisor-franchisee relationship, then you understand why there are nearly 800,000 franchises in the U.S. today!
Check out the following resources for more franchising information:
A Consumer's Guide to Buying a Franchise: FTC
Starting a Franchise Business
Even with franchisor support, the idea of investing in a franchise business can still be a bit intimidating if you are new to the concept. We've broken down everything you need to do to prepare yourself for the franchise journey.
Create a budget and set goals
Determine exactly how much you can invest and devise a plan to fund the initial investment. Keep in mind that you will need to have the capital to support yourself until you reach breakeven unless you plan to keep your day job and hire a manager. Develop a cash flow plan and set clear, concrete goals. Consult an accountant if you need to.
Research thoroughly
Be sure you understand all of the details of your franchise of interest. Carefully review the investment, earning potential, franchisee requirements, and exactly what services and support the franchisor offers. Ensure you get all outstanding questions and concerns answered, either by the franchisor or by other franchise owners.
Request your territory
You'll need to formally request your desired territory and confirm its availability before moving forward. If your preferred territory is not available, your franchisor may be able to suggest other nearby regions.
Submit your franchise application
Formally submit your application to purchase a franchise. The franchisor will assess your finances, territory request, and other qualifying information before approving your request.
Franchise Financing
Securing financing for a franchise can be significantly more achievable than doing so for a start-up.
There are several options for funding your investment. If you're unsure which option is best for you and your situation, consult an accountant to discuss the options in more detail.
When applying for financing, you'll typically need a detailed business plan to show your lender exactly how you plan to earn money to repay the loan.
SBA Loans
A Small Business Administration (SBA) loan is a low-risk, government-guaranteed bank loan that provides small businesses with easier access to the necessary capital they need. Terms, rates, and fees are usually favorable to those who qualify.
Conventional Business Loans
If you have a strong credit score, a conventional business loan might be the way to go. While not government-guaranteed, you may have a little more flexibility in how you use the funds.
401k Business Rollovers
Another funding option for your franchise is to use a 401k for your business start-up, sometimes referred to as ROBS (Rollovers as Business Start-Ups). While you won't have to pay back any money in this case, it can be risky. Be sure to assess your financial situation and the strength of the franchise business model.
Home Equity
Like a 401k rollover, using home equity prevents you from having to take on debt when starting your business. It is, however, risky on a personal level. Another way you can use home equity to your advantage is to use it as collateral in securing a business loan.
Angel Investor or Family/Friend Loans
If you're not familiar with investment terminology, an angel investor is an individual of high net worth willing to back your business in exchange for partial ownership of the company. In many cases, this can be a friend or family member.
Investment Portfolio Loans
The "stock loans" allow you to use the value of stocks, bonds, and mutual funds without liquidating them, allowing them to continue to grow. This type of loan can be a quick way to access funding with a low interest rate if you have the assets for it.
Business Partners
If you're unable to meet the minimum requirements or secure funding on your own, consider going into business with a partner. While you will need to share any profits ultimately made, it could give you the purchasing power you need to make a robust and profitable investment. Weigh your options carefully.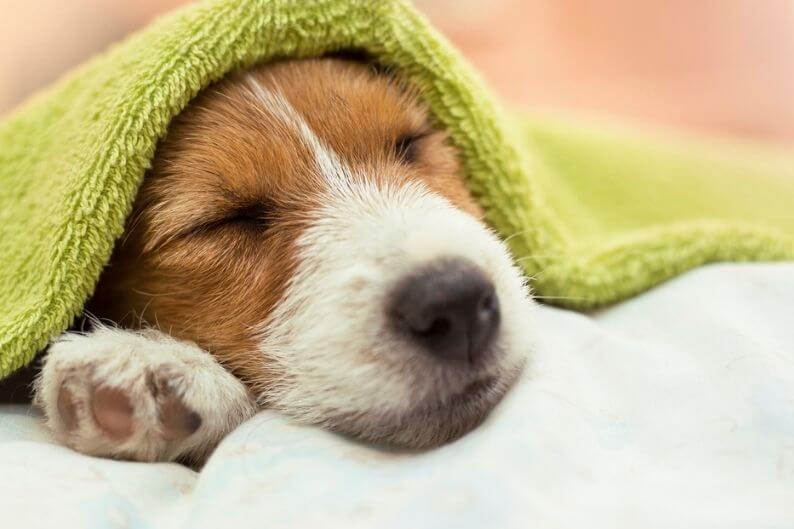 Running Your Pet Grooming Franchise
As important as marketing is to your business's success, selecting a proper location and designing a welcoming environment will be critical factors in your success. Fortunately, as a part of a franchise system, your franchisor will help guide you through the entire process, from finding the best real estate to the grand opening and everything in between:
Site criteria and identification

Lease negotiation

Design and construction manuals

Preferred contractors/vendors

Project management

Supply chain

Marketing

Operational support
Real Estate
Selecting your business's location is one of the most critical decisions you can make for your business. It's certainly a decision that requires a lot of research, patience, and expertise. Thankfully, the franchisor will provide you with guidance in finding the proper real estate or connect you to local commercial real estate professionals in your area.
Before you even begin your search for real estate, your first step is to identify your target market and key demographics. Your franchisor will likely have data and insights that can help you determine your business's target audience. The demographics in the surrounding area should support the location of your shop.
Once you've determined one or more locations with the proper demographic makeup, you can hone more closely on site selection. Consider factors such as visibility, accessibility, parking, foot traffic, and what businesses are nearby. These can all have a direct impact on your success.
Your franchisor will likely have certain square footage specifications that you will have to keep in mind. Often, the franchisor will need to approve a location before you move forward in making an offer. Once you have narrowed your selection down to one to three top picks, you'll draft a letter of intent to the prospective landlord about what you intend to do with the space. If this is approved, you will enter into lease negotiations.
While this may all seem overwhelming, remember that you won't have to do any of this alone. Your franchisor and real estate agent will help you understand what they require from you at each stage.
Construction
A unified look and feel of all locations improve consumer trust and customer experience across the board. Most franchisors have implemented specific guidelines and processes to uphold brand standards across multiple sites.
If you are responsible for hiring a project manager or choose to take on this task yourself, the franchisor will expect you to follow their construction manuals and project manuals.
You'll likely also have design manuals that specify fixtures, furniture, equipment, paint colors, and more. You may need to use specific vendors or approved products, and these could potentially run on the expensive side, but having the increased purchasing power of a franchise system and strong vendor relationships often results in deals or discounts for franchisees.
Marketing 101
As a franchisee, you'll benefit from national brand marketing carried out and funded by the franchisor. This includes maintaining the franchise website and driving traffic and awareness for the brand as a whole. While you won't be able to sit back and rely entirely on the franchisor's national marketing if you really want to drive local business, franchising certainly gives you a leg up from a marketing standpoint.
When it comes to marketing your franchise, the options available are endless. Digital marketing, email marketing, and local level marketing should all hold a place within your franchise marketing strategy.
By following the franchisor's advice for local marketing, you can complement national marketing efforts by personalizing them for your community. Many franchisors provide marketing playbooks to help you handle local marketing, social media, and more.
In the modern market, competition for customers is fierce. However, if you devise an effective marketing strategy for your franchise business, you'll be well on your way to success.
Each marketing channel will suit a particular type of franchise business best. The best strategy will depend on your target customers. This is just one of the many factors to consider before purchasing a franchise.
There is no right and wrong way to market your franchise business. Marketing can be a lot of trial and error in the early stages - trying multiple things and seeing what sticks. Over time, developing a marketing plan and a strong, unified marketing message is paramount.
Be sure to carefully track your leads and conversions from different sources to determine which strategies are working best. Once you have some data collected, you will be able to decide which channels are most effective.
Often, your franchisor will have a set theme or strategy they will ask you to follow. Doing this helps to maintain the integrity and effectiveness of brand marketing efforts. Leverage the pre-existing marketing material used by the brand across the board.
Bring up any questions or concerns regarding the brand voice and brand marketing strategy in your discussions with the franchisor early on. You'll want to ensure your plans are sufficient and congruent with the franchise as a whole.
Finding Your Customers
The brand awareness and strong marketing reach of an established brand will immensely benefit your franchise business from day one. With a name and business model that people know and trust, they are more likely to visit. You can generate buzz and excitement before you even open with giveaways, pop-up events, community marketing, and more.
Your franchisor will likely provide you with marketing playbooks and guides to break down exactly what you need to do to attract, convert, and retain your customers, both for your grand opening and thereafter. From printable marketing materials, social media content, pop-up event playbooks, and more, you'll have an established plan in place and be able to hit the ground running.
As always, every franchisor is different. While most reputable franchisors will offer these services, be sure to do your research and ask the franchisor questions before moving forward with a franchise agreement.
Digital Marketing
Creating a strong online presence not only creates more shopping avenues for your customer base, but it also helps generate more awareness of your business and helps drive profitability.
By leveraging best practices for search engine optimization, social media, and content marketing, you can drive more traffic to your website and increase sales. Your website design and overall user experience will also play a large role here.
The average web page visitor will spend about ten seconds on a site before deciding whether to stay. If the user experience is not smooth and straightforward within those first ten seconds, chances are you'll lose that customer. The user experience will depend on design, load speed, functionality, mobile friendliness, and more. Other content that helps you in the digital realm includes user-generated content like reviews and videos.
Your mind might be swimming with all of this information, especially if you have limited experience in the digital marketing realm. The good news here is that, if you open a pet franchise, much of this work is done for you in the background.
The franchisor's national website will generate traffic and point customers within your territory to your store. You may have limited knowledge and resources regarding web design, email marketing, and user experience, but the franchisor will likely have your back with pre-made marketing materials and strategies.
Content Marketing
Effective content marketing through social media and a company website are great marketing strategies. If your business can rank well for key SEO search terms in your area, even better. Content can take the form of blog posts, videos, social media posts, and articles. In addition to increasing website traffic, these also help establish brand credibility and recognition.
To create great brand content, focus on the following things:
Target the local market with relevant keywords and headlines

Incorporate the name of your city or location throughout your articles and posts

Diversify your content by creating a mixture of videos, blog posts, articles, and infographics
E-mail Marketing Campaigns
E-mail correspondence has remained one of the most powerful online marketing methods, even as social media seems to be taking over. Email marketing provides you with a direct line of communication with your target market. It is also very powerful when it comes to building rapport with existing customers.
Email marketing campaigns that are targeted for specific user journeys will also be necessary to your overall marketing strategy. Whether you are reaching out to potential customers, rewarding loyal customers, or encouraging previous customers to return, a targeted email approach can make a huge difference in your customer acquisition and retention rates.
Detailed below are a few tips to make your email marketing strategy more powerful:
Use local marketing insights to create email content that is relevant to your target demographic

Leverage data from social media to see which content or offers people respond to best

Re-establish communication with potential customers or existing customers with retargeting campaigns
Social Media
Social media marketing is a powerful way to build rapport with your audience and turn likes/followers into sales and revenue. Social media has the ability to pick up traction for an extremely low cost (or even free when used organically!).
Social media is also an effective platform for customer feedback and testimonials. Customer reviews, for example, offer social proof and create trust between your business and your future customers.
A healthy amount of positive reviews can entice people to want to visit your location. Be sure to respond promptly to negative comments, however, and reach out to the unhappy customer to alleviate the situation. Having just a few negative reviews can quickly kill your brand's reputation.
Facebook, Instagram, and Twitter will likely be the three leading players of your social media marketing strategy. These will become a powerful force within your franchise business strategy.
Even before you open, you can start developing an online presence and create a demand for your products or services.
Word of Mouth and Community Marketing
Word of mouth marketing is by far one of the most potent franchise marketing tools available to you. It should be at the forefront of your franchise marketing strategy. Make sure your customer service is top-notch!
Word of mouth marketing often happens on its own accord when people have a positive experience with your business. There are, however, ways in which we can speed along the process. These include customer referrals, community events, open houses, fundraisers, and more.
Even if your franchisor has blown it out of the water with national marketing campaigns, never estimate the importance of local marketing. Especially in the early stages of your business, creating a personal connection to your community members will go a long way and create loyal customers for life, especially when it comes to something as personal as pets.
Charity events, participating in local trade shows, sponsoring local sports teams or fundraisers, and co-marketing with local non-competing businesses are all great ways to get your name out there. Doing something positive for your community is probably the most effective way to promote your business. Not only are you increasing brand awareness, but you are also showing your potential customers that you are a brand with a conscience, and you are worthy of their hard-earned dollars.
This is one area of marketing that lets you get creative! There are always new ways to reach people and promote your business.
Your Responsibilities as the Franchisee
You are still ultimately the owner of your franchise location. And as a business owner, you will have several decisions to make that will directly impact your business's success.
Franchisors usually provide marketing materials, campaigns, and training, but you are still the owner of your own independent business. It is your responsibility to take the resources you are provided and make something of them. Business experience is usually not required before purchasing a franchise, but being well-versed in business and marketing will help you effectively meet your particular market's unique needs.
If you feel intimidated by marketing, you can also outsource to a marketing agency or hire a specialist marketer.
A practical, powerful marketing strategy is central to your business's growth and survival, especially in the early stages. Don't make the mistake of treating marketing as an afterthought or relying solely on the franchisor for your advertising. Before you even sign a franchise agreement, you should be familiar with the advertising resources your franchisor offers. Think about what you need to put in place to create an effective marketing strategy for your business.
Operational Support
Franchising offers prospective business owners the chance to pursue their goals with limited experience and knowledge thanks to the robust business models and operating systems the franchisor already has in place. If you can follow these systems and implement them into your business operations, you will likely be in great shape.
Franchisee operational support typically includes:
Business training for franchise owners

Operational playbooks and manuals

Recruitment and hiring guides

Training tools for staff
Access to Proprietary Technology
Finding and implementing the right technology can be a considerable challenge for a business start-up, not to mention quite costly. As a franchise owner, you typically have access to top-class, user-friendly, branded technologies at a fraction of the price, including Customer Relationship Management Software, customer-facing apps, point of sale technology, employee training programs, and more. Many franchise brands have custom-made their technology to better fit the needs of their franchisees without any extra fluff.
Supply Chain Management
Yet another expensive and daunting task for the independent business owner, supply chain management becomes easier when you can leverage a franchise system's purchasing power. You may benefit from discounts from approved or preferred vendors and more streamlined operations as a part of a franchise system.
COVID Best Practices
In this day and age, the businesses that make it through the most difficult times will be the ones that can adapt swiftly to changing circumstances. It's important to have a business model that allows for flexibility and quickly implemented changes, including:
Curbside services

Contact-free payment

Enhanced cleaning procedures

Social distancing

Communication with customers on measures to ensure their safety while still upholding the same level of service
Business Models
The two major subsets of the pet industry are retail and services, with many categories falling underneath these umbrella terms. Many businesses cater to both, offering grooming services and a small selection of pet food, supplies, and other retail items. While it's by no means necessary to combine these business models, it does allow you to capitalize on the needs of the consumer while simultaneously making their lives a little bit easier with the added convenience of getting all of their needs met in one place.
Retail
Pet retail encompasses everything you need to provide a furry companion with a happy and healthy lifestyle. From pet food to bowls and feeding supplies, and toys to holiday-themed attire, the retail options are nearly endless.
Online retail is growing in popularity due to its selection, price, and convenience. Subscription services and online-only pet brands are also becoming increasingly popular. While online shopping makes it easier to compare prices and get the best deal, brick-and-mortar pet retail shops are still favored by some customers looking for specialty or luxury products.
In order to leverage both of these trends, it's best to offer online shopping options for your customers. Whether you choose to implement curbside pickup or full shipping services, your customers will appreciate the convenience of the online shopping experience. Many prefer to keep their shopping local rather than flocking to Amazon or other big-name online retailers.
Grooming and Services
Despite mounting competition from online retailers, brick-and-mortar stores are not going anywhere. These shops tend to offer services like grooming, boarding, training, or doggy daycare that cannot be replaced with an online service.
Some of the leading pet grooming franchises in the U.S. today are:
Splash and Dash Groomerie and Boutique

Scenthound

Wag and Wash

The Dog Stop

Barkefellers

Pet Depot
Let's take a closer look at some of the business models employed by these top franchises.
Pay Per Service Grooming
According to Home Guide, the average cost of a single dog grooming service ranges from $40-75, depending on the dog's size. Add-ons like nail trimming, cuts, and more are available at an additional price. Mobile dog groomers charge a hefty fee for the convenience of coming to your home and typically start at $75 for basic grooming.
It depends, of course, on the breed of the dog and the length and texture of the coat, but on average, most dogs should be groomed about once a month (although a muddy day at the dog park always warrants an extra bath or two).
If not, they can develop problems such as matting fur, painful overgrown nails, ear infections, skin irritation, impacted anal glands, and other health concerns.
Regular grooming also helps encourage and maintain good behaviors in dogs, as they grow accustomed to sitting and staying still while being bathed and groomed and more comfortable being handled.
The Membership Model
Membership models are most commonly seen in the fitness industry, but their benefits are not limited to gyms and fitness clubs. While not traditionally seen in the pet industry, membership models are proving to be a strategic choice for groomerie owners.
Splash and Dash Groomerie and Boutique's monthly membership is comparable in price to a one-time bathing service at a typical groomerie, and since most pet owners get their dogs groomed about once a month, there doesn't seem to be too much difference between the two price models. Where the value lies is in the peace of mind for the customer.
As any dog owner knows, dogs can get messy. Sometimes one bath a month is just not enough. For those instances, it's nice to know you can get your pup clean again without breaking the bank.
Even if our members don't typically use our services more than once a month, the option is there for them when they need it. And they are always appreciative of it when that time comes.
This type of business model rewards customer loyalty, builds better customer relationships, and effortlessly increases word-of-mouth advertising.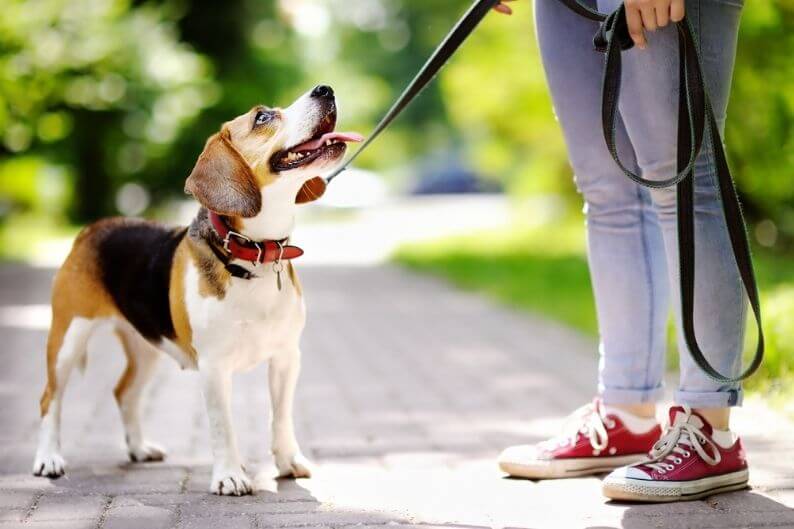 Choosing the Right Franchise Partner
If you've come this far and decided that you want to move forward with franchising, the most important takeaway is that not all franchisors are created equal. While we've gone over the type of support you can generally expect to receive from a franchisor, never make assumptions.
Thoroughly review the FDD, ask the franchisor questions, consult a legal professional, and be sure to weigh all of the pros and cons carefully. Once you sign a franchise agreement, it is legally binding. You'll be contractually obligated to pay royalties and follow the requirements set forth by the contract.
Put in the work to do your due diligence now to ensure a mutually beneficial and profitable partnership with your franchisor down the road.
The Franchise Disclosure Document
The Franchise Disclosure Document (FDD) outlines the franchisee and franchisor's roles and responsibilities and provides detailed information on the background, operations, and financial history of the brand. It also lists any fees required of the franchisee and how the money will be allocated.
You'll receive the FDD a minimum of 14 days prior to signing a franchise agreement. You may choose to review the FDD with a franchise lawyer or someone well-versed in franchising.
The FDD contains 23 items detailing different components of the franchise. In the early stages of the game, the items you will want to pay the closest attention to are Item 7 and Item 9.
Item 7 provides a detailed analysis of the estimated initial investment. This itemized breakdown offers high and low estimates for each category so you can get a closer idea of what your investment will look like depending on your market.
Item 19 contains financial performance representations of current franchisees. This number is not a claim of what your earnings will look like but rather an example of past performance from a specific location or locations. Each market is different, however, and depending on your expenses, your profit margin and revenue can look quite different.
The Franchise Agreement
A franchisee/franchisor relationship benefits both parties. A franchisor can expand the business without the upfront capital. The franchisees are given the opportunity to own their own business without starting from scratch, gaining access to the wealth of knowledge and support of a large franchise system at the same time.
That being said, it's essential to carefully assess the franchise agreement to ensure this relationship is truly a beneficial one. Not all franchisors are the same, so never make assumptions. Once you sign a franchise agreement, you will be in a legally binding contract. Just like with the FDD, review the franchise agreement carefully and with a legal professional.
The franchise agreement states the terms, costs and fees, territory information, support and training, and termination policies. It will not be as detailed as the FDD, but don't sign an agreement without thoroughly reviewing and agreeing to all of the information contained in the FDD as well. The contract may also contain a non-compete clause and other relevant sections.
The franchise agreement is often non-negotiable. While you may have some wiggle room with younger franchises, more established brands are less flexible. They might have hundreds of successfully running franchise locations and are not likely to change the contract to appease a single franchisee. If they've successfully grown the franchise thus far, you can assume they likely know what they're doing. But if you're not sure about something, always ask. Make sure you're properly informed and comfortable with all aspects of the franchise agreement before signing.
Territory
You will be granted an exclusive territory for your franchise, prohibiting another store within the franchise from opening within a certain distance.

Term of agreement:
The length of time that the franchise agreement is valid will vary but is typically 10 or 20 years. Check your contract for information on exit plans and selling the franchise so you know what all of your options are.

Costs and fees:
The initial franchise fee and any ongoing fees, such as advertising and royalty fees, required of you will be disclosed.

Support and training:
The contract should clearly state all the services the franchisor will provide to help you achieve success.

Termination policy:
If you fail to operate your business according to the franchisor's rules and requirements, they reserve the right to terminate the franchise deal.
With any franchise, there are some red flags that you need to be aware of. Pay attention to each interaction you have with the franchisor or its representatives and keep an eye out for. Pushy franchisors, franchisors that discourage or avoid the validation process, or "discounted" franchise fees may indicate that the franchisor does not have your best interests in mind. Trust your instincts, do your due diligence, and seek legal counsel when in doubt.
Splash and Dash Groomerie and Boutique
Splash and Dash Groomerie and Boutique is a thriving pet franchise in the US, named Aspioneer's hottest pet franchise of 2020. Our franchisees benefit from the support of a large, well-established company while maintaining the feel of a mom-and-pop shop.
Founder Dan J. Barton entered the pet business in 2009 in Palm Desert, California, where he first introduced his recurring revenue model to an industry that had become stagnant and monotonous. Dan's business model became so popular that he quickly realized the opportunity in front of him. He began licensing the Splash and Dash for Dogs Business Model in 2010, expanding the concept's reach across the country and even into Australia.
In 2014, Splash and Dash grew from a licensing concept to a fully-fledged groomerie and boutique franchise that made the INC 500 list of fastest-growing privately held companies in the U.S. twice in a row. In 2018, Dan and the Splash and Dash corporate team launched their own line of organic, high-quality dog treats, Keepin' It Simple. In the past couple of years, the franchise system has continued to develop and improve its branding, marketing, and franchisee training, setting its franchise owners up for success and profitability.
Luxury grooming services
Unlimited monthly membership

Shampoo and conditioning

Nail trim and grinding or Dremel

Teeth brushing

Body mist

Invigorating spa treatments

Blueberry facial

Pinkberry facial

Extra hand brushing

Front paw nail polish

Aromatherapy shampoo treatment

Citrus flea and tick shampoo treatment
Luxury bedding add-on

Bow or bandana add-on
Retail
Eco-friendly toys

Leashes, collars, and dog clothing

Holiday and season products

Bowls and feeding supplies

Top dog food brands

All-natural, human-grade dog treats

Other accessories and supplies
Extras
Safety-first grooming

"Cute cut" guarantee

Time-saving tech and SMS notifications

A clean, modern environment

Valet carry-out and curbside services
Franchisee Support
Real estate and site selection assistance

Business training

Marketing materials and playbooks

Operational playbooks

Proprietary, custom technology

Bookkeeping services

Supply chain services

Printshop services and custom marketing materials
Franchises have invested the time and money to determine what works and how to replicate that success. Even in light of the COVID-19 pandemic, current franchisees have sung Splash and Dash's praise and continue to set records in terms of business received and revenue earned.
Read some of the kind words our franchisees have set about our support throughout the challenges imposed by the pandemic:
"You guys have reacted so fast, and helped us plan accordingly." - Scott, Southern Pines, NC
"Thank you so much for all of your quick help during the craziness, and helping to keep our business open so we can support our family." - Jaime, Coppell, TX
"We've been open for almost five years and have had tremendous support from the corporate team. Everything from marketing support, customer service... and the POS system. Constantly updating that and making our lives easy." - Tom, Peachtree City, GA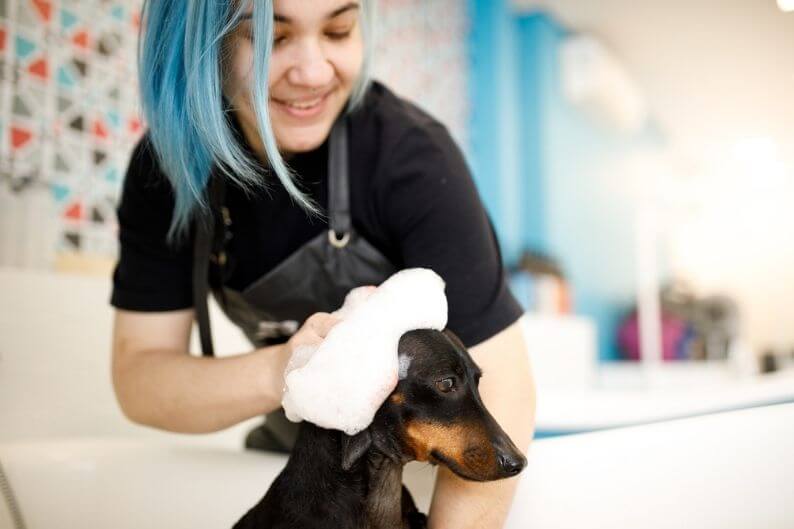 Franchisee Fast Track Program
Splash and Dash offers a unique path to franchise ownership that goes against the tedious, lengthy process that most franchisors require. Our Fast Track program allows you to complete the phases of your franchise purchase simultaneously so you can open your business faster and start making money sooner, without sacrificing any of the necessary steps for preparation.
If you qualify for our fast track program, our team will be dedicated to helping you on your path to a successful grand opening. This includes completing all necessary legal paperwork, finding and securing a location for your groomerie, creating your budget, designing and building out your shop, learning the ins and outs of our business model, and creating a business plan.
Our Splash and Dash Fast Track program is designed to be completed over the course of one month. The program will simultaneously guide you through the early phases of onboarding: legal, budgeting, and real estate.
Phase 1: Legal Entity and Owner Information
For your first phase of the fast track program, you'll file for your legal business name. How you choose to file your business will be up to you, but an LLC is a common business format for franchise owners. When you register your business, you will be assigned a Federal Employer Identification Number (FEIN number), which will be important to proceed according to schedule.
Phase 2: Legal Documentation
As a bonus, Splash and Dash provides free access to Paralegal Services for your benefit. You'll have the opportunity to review any legal documents and processes over the course of three one-on-one calls. This can be especially beneficial in understanding the nuances of the Franchise Disclosure Document, which can be a lot to process without proper guidance. You Paralegal will be there to guide you and answer any of your questions throughout the process so you can be confident in your decisions.
Phase 3: Budgeting and Finances
Proper budgeting and planning are fundamental to your success. Nobody likes a surprise when it comes to expenses! That's why we automatically set up a review with you of all costs associated with opening your franchise.
Meeting #1: During initial onboarding, we'll go over total projected expenses and the expected timeline.
Meeting #2: After a site has been selected, we'll reassess costs and predictions and adjust accordingly.
Phase 4: Real Estate
We'll connect you with a local real estate agent to find the perfect location for your business. Real estate is such an important decision for the future of your business, and our dedicated real estate agents know exactly what to look for in a location to set you up for success.
The Steps of Fast Track
Day 1: Receive FDD and Acknowledgment Form via Docusign/Legal Entity & Owner Information
Day 2: Schedule First Discussion with Legal
Days 3-5: First Discussion with Legal
Days 3-8: Schedule Budget Discussion & Preliminary Real Estate Overview
Day 12: Second Discussion with Legal
Day 16: Complete Deposit Form and Submit Deposit
Day 17: Begin Real Estate Search with Broker
Day 19: Third Discussion with Legal
Day 25: Final Legal Q&A and Closing Documents
Day 30: Schedule the Closing
Day 31: Sign Franchise Agreement and Close
Franchise With Splash and Dash
Splash and Dash Groomerie and Boutique is looking for franchisees like you to help bring our brand forward into this new decade. Interested in learning more? Many prime territories are still available but won't last long. To make an inquiry or simply to learn more about the brand opportunity, request our free report or call schedule an informational call with us today!

Sources